Shanghai United International School Wenzhou Campus to open next year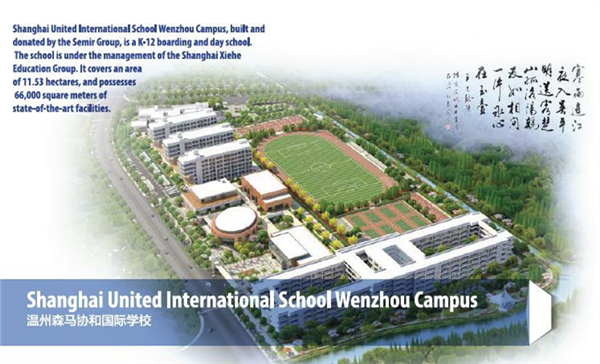 Shanghai United International School Wenzhou Campus [Photo provided to chinadaily.com.cn]
On behalf of everyone here at SUIS Wenzhou, I would like to warmly welcome students from all over the country and the world to our school. This is a place where Chinese traditions, Western customs, and Wenzhou's own special culture intertwine.
SUIS has long embraced the unique educational philosophy of 'East meets West'. We are committed to providing a high-quality bilingual education, as well as offering students personalized services. Crucially, students enjoy small classes and close relationships with teachers.
Students can choose from a wide variety of courses and in-depth studies designed tobroaden and enrich the minds of young learners. However, SUIS Wenzhou believes the educational experience to be more than simply learning, we see it as a social platform, a place where young people learn to grow and challenge themselves.
At SUIS, we prepare students for a global society by creating an awareness of international issues and encouraging thinking on a worldwide basis. Our aim is to develop well-rounded individuals through a wide range of cultural and social activities.
Here at SUIS, we strongly believe our broad and carefully designed curriculum offers enterprising students a wealth of opportunities to achieve their dreams. Passionate individuals have the perfect environment to cultivate their own interests. One important feature of our school is our constant attempt to encourage students to become problem solvers and leaders.
At SUIS, we ensure learning extends beyond the walls of the classroom and we strive to endow students with lifelong skills. We teach students how to embrace change and the importance of remaining positive in the face of adversity. Upon graduating, we believe SUIS students possess the confidence and skills necessary to create a productive and fulfilling future.
SUIS is a place for students to discover their own talents and potential, it is environment in which it truly pays off to work hard, and it is a school with all the resources to allow students to realize new ideas and aim towards their potential. What's more, the journey our students go through is more fun than they could ever imagine.
Sincerely, John Zhang, M.ED