Graduates in Beijing face tough test to land jobs as the capital caps population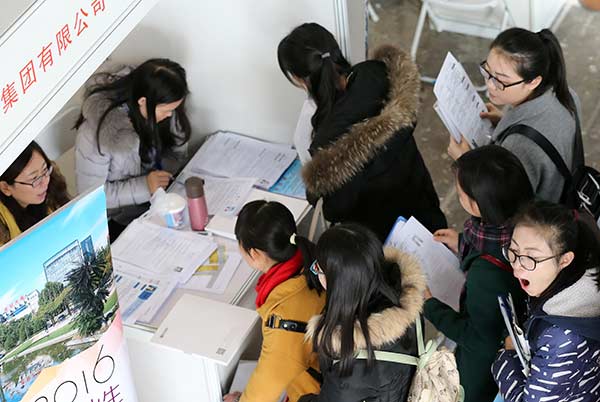 Students wait in line for interviews at a job fair in Beijing this month. There will be more than 7.95 million graduates next year, according to the Ministry of Education.Wang Zhuangfei / China Daily
Cao Ran, a postgraduate student in Beijing, is one of the most intellectual students in his class, but his high scores are not getting him a job offer. Cao graduates next summer, and in the past few months, he has been busy looking for jobs.
"I have been handing out my resume at job fairs since July when the semester started, but four months have passed and I have not received a single interview offer," he said. "There are just not enough positions this year. Fewer companies are hiring compared with last year."
Cao majored in chemical engineering at China University of Petroleum.
"I thought I was good, but there are many Chinese graduates from abroad who are also looking for jobs in Beijing. Competition is unimaginable," he said.
Across the country, as the job-hunting season starts, pressure has been mounting for new graduates, as the tepid economy has seen companies slash positions.
Li Hu, who studied public management at Renmin University of China, has found a job at a training firm.
"The salary is fine, given the economy, but there is no hukou, household registration, which means I cannot buy an apartment here and, in the future, my children cannot go to school here. So I am still looking for better opportunities, because I want to settle here," he said.
Unlike Li, many graduates choose to leave Beijing and look for jobs elsewhere.
Starting this year, Beijing has been capping its population as it pushes forward the Beijing-Tianjin-Hebei regional integration program. The capital has been moving out labor-intensive and polluting industries such as real-estate construction, steel, coal and mechanics.
"Years ago, at least 60 percent of our graduates had their first jobs in Beijing, but the percentage is less than half now," said Lyu Yuan of Peking University's employment center.
"The outflow of graduates has been more voluntary in recent years, as students evade a high-cost, high-pressure lifestyle in Beijing. Meanwhile, we are also advising and assisting students to seek jobs in other cities," Lyu said.
This year, there were 7.65 million new college graduates in China. Only about 80 percent of them found jobs immediately after graduating. Figures from the Ministry of Education show there will be more than 7.95 million graduates next year.
According to the Ministry of Human Resources and Social Security, about 15 million young people will join the urban labor force each year between this year and 2020. College graduates represent a majority of the new job hunters.
Chinese face a confounding mismatch of labor oversupply and structural shortages. Skilled workers are in short supply, while general labor forces are at a surplus.
Yao Xianguo, director of the public policy institute at Zhejiang University, said more jobs will be created as China steps up industrial upgrading and changes its development.