Inspections find misuse of funds for fighting pollution
China has been conducting high-level provincial inspections and exposing the misuse of special funding intended to support the fight against air pollution.
In the ongoing central inspections in seven provincial-level regions, more than 1,100 officials have been summoned to talk about their performances in environmental protection, with 687 were held accountable, according to a statement released by the Ministry of Environmental Protection on Tuesday.
The inspection teams, headed by ministerial-level officials, have exposed and transferred 5,462 cases to the governments they inspected, and 112 people were detained, the statement said.
Total fines from polluters have grown to 66 million yuan ($10 million), of which Guangdong province has been fined the most out of the regions, which also include Beijing, Shanghai and Chongqing municipalities, and the provinces of Hubei, Shaanxi and Gansu.
In addition, 256 officials were held accountable due to their poor performance in environmental protection in Shaanxi, the most out of the inspected province, it said.
Inspectors will conduct field investigations at the city level to push government officials to improve their efforts to reduce pollution, the ministry said.
In addition to the monthlong inspections targeting officials, the central government also strengthened the monitoring of their use of special funds for air pollution control.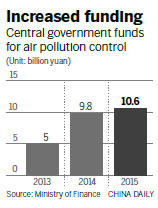 The central government allocated 25.4 billion yuan to assist some provinces in reducing air pollution from 2013 to 2015.
The Ministry of Finance reviewed the use of these special funds in nine major provinces and municipalities including Beijing, Tianjin, Hebei and Henan, which received 94 percent of the total funds, and found severe violations such as using the funds to renovate official buildings.
For example, more than 2.57 million yuan was used in eight counties in Anhui province for catering, building renovations and the purchase of equipment, none of which was related to air pollution control, the ministry said.
The environmental protection bureau in Tianjin used 4.25 million yuan to cover the expenses of officials' travel and telecommunications in the process of phasing out old vehicles in 2015.
"The special funds are not allowed to be used for other purposes. In general, the funds have been used to finance the governments' efforts in air pollution control," Chen Shaoqiang, a researcher at the Ministry of Finance's Research Institute for Fiscal Science, said on Tuesday.
To solve the exposed problems, the ministry should strengthen management and conduct regular inspections, Chen suggested.
The ministry will retrieve the misused funds and improve the management of special funds, the statement said.