People stop and bow heads as they honor 300,000 victims of massacre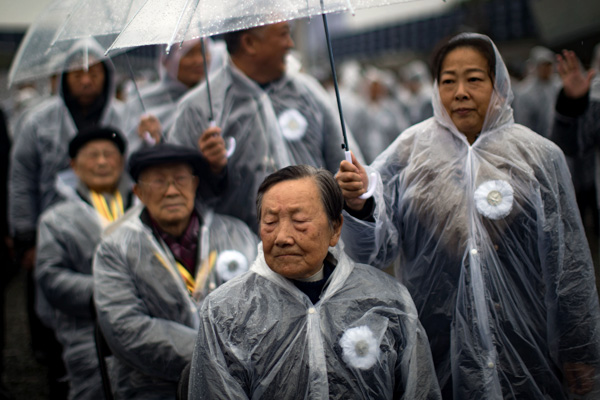 Xia Shuqin, a survivor of the Nanjing Massacre, attends the ceremony at the memorial hall to honor victims of the atrocity in Nanjing, Jiangsu province, on Tuesday.Yang Bo / For China Daily
Traffic lights stopped flashing, vehicles stopped running and people stood still on streets, bowing their heads, on Tuesday morning to remember the 300,000 victims of the Nanjing Massacre, as air raid sirens sounded across the country's former capital.
At the Memorial Hall of the Nanjing Massacre, survivors of the massacre, veterans and people from many countries, including the United States, France and Japan, paid tribute in the cold rain to the victims.
Zhao Leji, head of the Communist Party of China Central Committee's Organization Department, said at the memorial hall that the Chinese people will always remember the victims.
"People who experienced wars and had their homes ravaged by enemies know better the value of justice and how precious peace is," said Zhao. "We hold the National Memorial Day ceremony not to pass on hatred, but to awaken the longing for and adherence to peace."
Xia Shuqin, an 87-year-old witness to the massacre, said: "A lot of the survivors have passed away. They won't rest in peace if the truth is still denied."
Some residents attended memorial ceremonies at mass grave sites. Others folded paper cranes to pay tribute to the dead, and some set free white pigeons in downtown Nanjing.
According to the massacre memorial hall, only 107 survivors are still alive. The youngest are in their 80s.