River chiefs will help balance growth, environment
The appointment of local government heads as chiefs of the country's rivers and lakes will help solve the predicament in which local governments must strike a balance between economic development and environmental protection, officials said on Monday.
The central government has decided to establish a nationwide river and lake chief system that will cover all rivers and lakes by the end of 2018. The chiefs will take full responsibility for the management and protection of the country's water bodies.
While heads of provincial-level regions will be general chiefs responsible for all rivers and lakes in the region, other top officials at provincial, city, county and township levels will act as river chiefs responsible for different parts of the water bodies, according to a document released by the general offices of the Communist Party of China Central Committee and the State Council.
Responsibilities of the river and lake chiefs will include water resource protection, pollution prevention, bank management and ecological restoration. Their performance will be evaluated, and they will be held accountable for environmental damage that occurs in the water bodies under their care.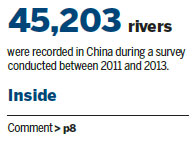 One of the two top provincial officials, the Party secretary or governor, will be appointed as the general chief, and officials above department head level of each level of government will act as river or lake chiefs, Zhou Xuewen, vice-minister of water resources, said on Monday.
"The performance evaluation standards in different regions will be drafted differently in accordance with their specific problems. In some regions, the problem is the excessive reclamation of water bodies for development use. For others, rivers or lakes are seriously polluted," he said.
Zhang Bo, director of the Department of Water Environment Management of the Ministry of Environmental Protection, hailed the river and lake chief system as one that could "tackle tough challenges".
"The biggest challenge we meet in water pollution prevention and control is the unbalanced industrial structure in some regions. Many local governments are facing a choice of developing the economy or protecting the environment," he told the news conference.
The system under which top officials are accountable as river chiefs will help adjust the industrial structure and better protect the environment while developing, he added.
Such chiefs were first appointed in 2007 to tackle a blue algae outbreak in Taihu Lake in Jiangsu province. Eight provincial regions have already adopted the system.
The first national water resource survey from 2011 to 2013 shows, China has 45,203 rivers, each of which has a drainage area of more than 50 square kilometers, and 2,865 lakes whose average water area in normal years is at least 1 square kilometer.
houliqiang@chinadaily.com.cn