Opera training for online celebs sees big demand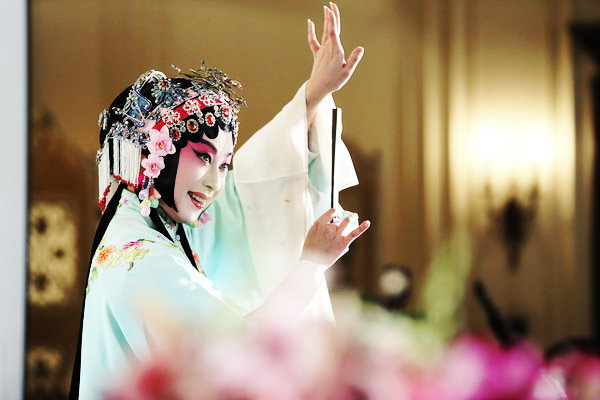 Photo provided to China Daily
Zhejiang Kun Opera troupe in East China's Hangzhou has launched a program to teach Kunqu arts for free to 20 online celebrities and internet users can watch the whole show live, chninanews.com reported Monday.
"To generate the interest of online celebrities, the program will start by teaching them characters and makeup," said Bao Chen, who is in charge of the course.
"For example, we will teach them how to dress like Du Liniang, a role that's similar to Hermia's in A Midsummer Night's Dream, in a Kun Opera. It will take them nearly two hours to wear makeup and dress as Du. They can broadcast their learning process online," said Bao, adding that the students will later learn how to pose, move their bodies, sing and speak in Kun Opera.
Bao said the tuition-free training, with customized courses, has been designed to last three or five months.
What surprised Bao was that so many online celebrities applied for the program, which far exceeded the number of the students they had planned to enroll.
"There are more than 100 applicants, some of them are volunteers while others have been signed up by their agencies," said Bao.
Faced with so many applicants, the troupe decided to increase the strength of each class. "At the beginning, we decided to enroll 15 students, now we have decided to enroll 20 in each class. This is the first training course, we will have the second and the third training course. We promise all the applicants will receive the training," said Bao.
"The reason why so many online celebrities are rushing to apply is that they want to look more graceful after learning Kun Opera," said Xue Tengjiao, president of an agency of online celebrities.
Xue admitted that he used to change the TV channel whenever opera was on as he did not have the patience to listen to it.
An online celebrity named Xing Xing said the live online broadcast mainly focuses on popular songs, chat or jump dance. "I can attract more fans if I can learn a different talent like Kun Opera," said an online celebrity.
Like Xing Xing, most of the 20-something online celebrities taking part in the program have no idea about Kun Opera.
As far as the expectations are concerned, Zhou Xi, in charge of the troupe's promotion activities, admitted that after training it will be good enough if the online celebrities can learn basics of singing and movements as they are not expected to be equal to the professional Kun Opera performers.
However, Zhou said: "It's more important to let more people understand and enjoy Kun Opera through different channels, including live online broadcast. That is our intention behind this program."