Crowdfunding begins to move center stage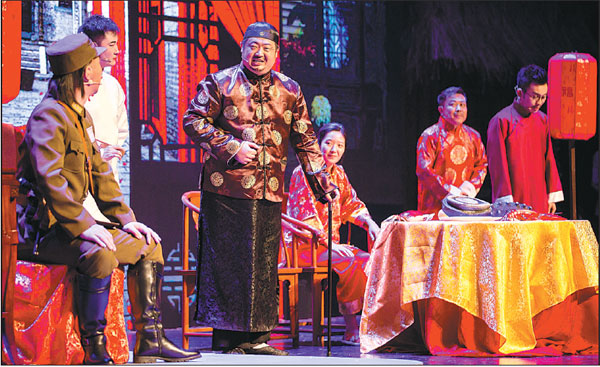 A scene from The Jiang's House 1912 in Dalian, Liaoning province. The production was the city's first crowdfunded modern drama.Photos By Wen Lei / For China Daily
A TV anchor is promoting greater public participation in the production of contemporary drama. Zhang Xiaomin reports from Dalian, Liaoning province.
During the Oct 28 debut of The Jiang's House 1912, the first crowdfunded modern drama performed in Dalian, Liaoning province, producer Wang Bo waited at the theater door.
With box-office takings of 320,000 yuan ($46,462), Wang wasn't concerned about profits. Instead, he wanted to get firsthand feedback from the audience.
He noted their criticisms, such as the theater's poor acoustics and the number of lame jokes in the play, and promised to improve the performance in the next show.
"We want to build a platform for grassroots modern drama so ordinary people can participate in the production and performance of plays," said Wang, an anchor with Dalian TV. He is also founder of the Modern Drama Producer, the northeastern city's first crowdfunding platform for contemporary stage plays which is dedicated to building a platform for actors, playwrights, directors and investors.
The Jiang's House 1912 sparked interest among Dalian locals in September, when the Modern Drama Producer started raising funds for a performance of the play.

Within a month, the project had raised 15,000 yuan from 123 people, who received discounted tickets and invitations to take part in rehearsals and communicate face-to-face with the director - Wang Dong, who also wrote the play and takes the lead role - and members of the cast.
While Wang Bo was disappointed with the total raised, he remained optimistic about future developments.
"We expected to raise 70,000 yuan (the full cost of staging the play). In fact, with investment of 165,000 yuan, we made a small profit. However, the project attracted the attention of potential audience members, and what really matters is that our team went through the whole process, from fundraising to market promotion. We will definitely do much better in the future," he said.
"By combining resources, we can provide the younger generation with a stable stage and look forward to seeing a bright future for modern drama in Dalian, and even in China," Wang said. He added that the project has paid 30,000 yuan for the rights to stage a production of a new play called Run Away, written by Zhu Fu, a member of the Association of Chinese Dramatists, and will soon begin a crowdfunding program.
At present, many small troupes devoted to modern drama are attempting to raise money via online crowdfunding platforms.
Unlike equity-based crowdfunding, where investors receive shares in a company, people who donate money to modern drama can obtain discounted tickets, participate in rehearsals and interact closely with actors. Alternatively, their names will appear in the acknowledgments and producer's list.
Groups that offer detailed descriptions of proposed performances usually win the most support from netizens, with some raising as much as 150,000 yuan.
Market reaction
In April last year, a project to stage a Chinese-language version of The War Horse, a play based on the best-selling book by British author Michael Morpurgo, raised 2 million yuan in less than eight hours.
"It's the most successful example so far," said Xu Xun, head of the performance department at Dalian Repertory Theater. However, he cautioned that crowdfunding is not realistic for most small theater companies that lack big-name actors. "But it helps to test the market reaction in advance, and the participation of netizens makes the market for performances of contemporary drama more prosperous," he said.
Small theater companies still have a way to go, though. A survey of cultural consumption published in March last year by the China Art and Science Technology Research Institute, showed that theatrical performances ranked as the eighth most-popular leisure activity, below surfing the internet, watching TV or movies, and travel. The results indicated that modern drama is still a "minority art form", irrespective of the scale of investment, all-star lineups or box-office takings.
Nevertheless, audience numbers are rising, according to Wang Decheng, general manager of Dalian Poly Theater, one of the city's best-known venues. "Many locals who have never watched theatrical performances are now visiting our theater," he said.
With 1,600 seats, the theater possesses first-class facilities and promotes more than 100 high-level concerts every year. It also invites well-known theater companies from both home and abroad to perform.
In the first half of this year, the theater launched a Modern Drama Festival, which featured performances of more than 10 recent classics, such as Peach Blossom Land, Cellmates and Office Romance.
Precarious situation
"Comedy drama is the most popular form of entertainment," said Cai Wenyu, founder of the Daoyazi (a Dalian dialect word meaning "kerbstones") Drama Workshop in Dalian.
The workshop, which was founded in 2014 and has just 12 members, has rented a 700-seat conference room next to the Dalian Poly Theater at the Dalian International Conference Center. Last year, its first presentation, a comedy performed in the Dalian dialect, earned critical praise and good audience numbers. This year, a similar comedy drama also earned rave reviews.
Despite that, the situation is still precarious. "For small troupes, the success of one or two dramas can't cover up the difficulties," Cai said. "It's hard to find suitable actors".
According to Cai, although there are film schools in Dalian, most graduates leave to work in larger cities such as Beijing, Shanghai and Guangzhou, Guangdong province, where there are greater opportunities.
"Young actors can only grow faster and earn more money when there are enough performances," he said.
The Dalian Repertory Theater Company, a State-owned troupe, boasts professional playwrights and a large number of actors. It gives about 200 performances a year.
"Small folk troupes are too far behind to catch up. As far as I know, all five grassroots modern drama troupes active in Dalian are facing difficulties as a result of a lack of actors, playwrights and money," Cai said.
Those problems aren't just endemic to Dalian, though; they also present challenges to small theater companies in other cities. Despite that, Cai believes the vitality of modern drama in China derives from smaller troupes, but he remains cautious about the potential effect of crowdfunding.
"It's an innovative business model, but not a solution for all our difficulties. Everything should result from the high quality of our work," he said.
Contact the writer at zhangxiaomin@chinadaily.com.cn