Colleges vital for Party
Xi says goals of higher education must align with development plan for the nation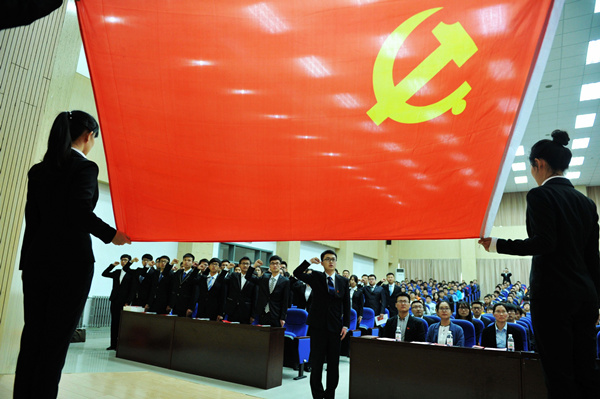 Students swear an oath as they join the Communist Party of China at China University of Petroleum's campus in Qingdao, Shandong province, in April. YU FANGPING / FOR CHINA DAILY
Colleges and universities should always adhere to the leadership of the Communist Party of China, President Xi Jinping told heads of domestic higher education institutions at a conference held in Beijing on Wednesday and Thursday.
Xi said the Party committees of higher education institutions should always take the helm, be responsible for making decisions and ensure that the institutions are developing in the right direction.
He also said Party committees at all levels across the country should attach great importance to the ideology of colleges and universities and make this one of their priorities. Party chiefs and members should visit the educational institutions frequently, communicate with teachers and students, take suggestions from them and answer their questions.
Xi stressed that China has its own history, unique culture and special current situation, which means that higher education institutions should walk on their own path and make themselves socialist institutions with Chinese characteristics.
He added that the goal of colleges and universities should be consistent with the whole country's development target.
Their work should serve the people, the Party's governance, the development of the socialist system with Chinese characteristics and reform and opening-up, as well as the socialist modernization drive.