Luck by chance: University admits seniors based on lottery system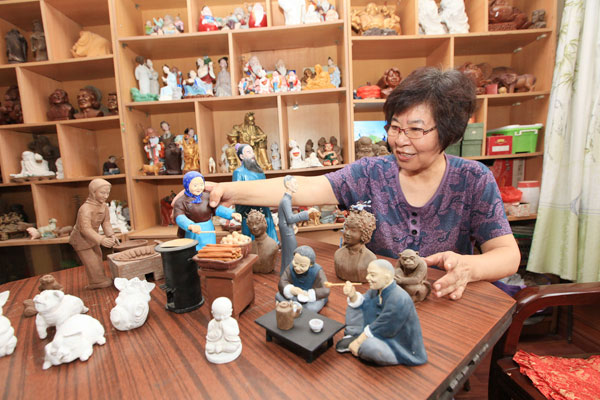 Sun Wenfeng shows the clay sculptures at her home in Xiqing district, North China's Tianjin municipality, on July 4, 2016. Sun learned clay sculpture techniques at a university for the elderly in Tianjin. [Photo/IC]
Students applying to a university for the elderly in North China will not be competing against each for admission, but will be enrolled based on a computer-generated lottery system adopted by the university.
Hebei University for the Elderly in Shijiangzhuang city, North China's Hebei province, began admitting students on December 1. By December 5th, more than 20,000 hopefuls had filled out the application forms, while the university plans to enroll 3,100, Hebnews.cn reported Tuesday.
"On December 1, there were so many people waiting for the application forms that there was no room even to stand," said a staff worker at the university.
Some majors are so sought after that people even queue overnight to get enrolled. "This is my third attempt for the dancing major. I rushed here as soon as I heard the news that the application process had started. I tried to apply twice before but failed," said a 64-year-old woman surnamed He.
She added: "The competition is more fierce than getting a ticket during the annual Spring Festival travel rush."
A man surnamed Cao, 73, applied for two majors: photography and keyboard this time. Cao said: "Besides learning new things, I will many new friends so I really don't want to graduate. If allowed, I will keep on applying to study at the university."
Expecting a huge rush for the limited offers, the university took lessons from its counterparts in other parts of the country and adopted a computer-generated lottery system to select 3,100 students from all the applicants.
"We took this action to give applicants equal chance to be enrolled," said Fang Ling, academic director at the university.
Experts commented on seniors rushing to study rather than taking care of grandchildren and walking pets.
"It reflects the seniors are more concerned with spiritual pursuits rather than material pursuits in the aging society nowadays," said Liu Yali, deputy director of the Social and Cultural Teaching and Research Department in Hebei Academy of Governance.
Liu added that elderly people are paying more attention to social activities and cultivating personal habits and interests to improve their life quality.
A woman surnamed Ma, 67, said she used to feel bored after spending most time watching TV at home, buying vegetables, chatting with neighbors each day.
"Now I feel very energetic after dancing with other classmates at the university," said Ma.
Low tuition, and sometimes even no tuition, also attracts more people to apply to the universities for the elderly.
"It indirectly shows that the allocation of public resources cannot meet the growing spiritual demand of the seniors," said Liu, who advises that more community resources can play active parts in elderly education.