China orders safety overhaul after deadly power plant accident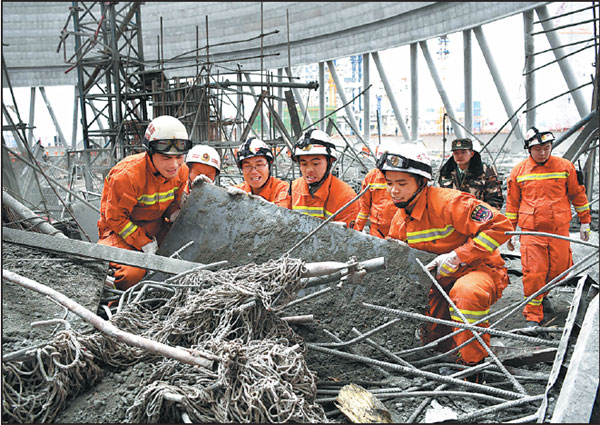 Rescuers search for trapped workers after the deadly collapse of a construction platform at a cooling tower at Fengcheng Power Plant in Yichun, Jiangxi province, on Thursday morning.Wan Xiang/Xinhua
BEIJING -- Chinese authorities on Sunday told safety watchdogs nationwide to launch thorough work safety checking to resolutely curb severe accidents and plug the holes in safety standards.
The call was made at a meeting on work safety of the State Council, China's Cabinet. Vice Premier Ma Kai addressed the meeting.
The meeting urged local authorities to earnestly carry out the orders by President Xi Jinping and Premier Li Keqiang concerning a deadly power plant accident in east China's Jiangxi Province and implement their instructions on national workplace safety.
It was agreed at the meeting that lessons should be learned from recent accidents and an overhaul is needed to ensure safety at work.
Attendees to the meeting also suggested promoting supervision and inspection as well as accountability in order to improve workplace safety.
They cited areas in need of more attention, including construction sites, coal mines, traffic, dangerous chemicals, fireworks, power and heating supply sectors.
Safety measures should also be strengthened at crowded places, it was agreed. Precautions should also be made to deal with extremely bad weather.
Local authorities should take innovative measures to improve work safety. Illegal operations should be cracked down on and the threshold for work safety standards should be carried out strictly, according to the meeting.
The platform for a cooling tower of a power plant under construction collapsed in Fengcheng of Jiangxi on Thursday morning, and 74 people were killed.
President Xi on Thursday urged local authorities to step up rescue efforts, treatment and follow-up work after the deadly accident. He ordered those involved to leave no stone unturned when investigating the accident.
Premier Li also called for all-out efforts to treat the injured.Supervision should be strengthened and precautionary measures should be taken to prevent serious accidents from happening again, Li said.