Premier urges rescue workers to save lives after construction site accident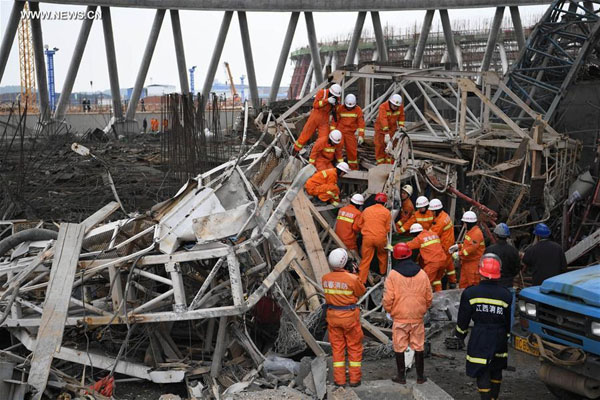 Rescuers work at the accident site at the Fengcheng power plant in east China's Jiangxi Province, Nov. 24, 2016. At least 67 people have been confirmed dead after the platform of the Fengcheng power plant's cooling tower under construction collapsed on Thursday.[Photo/Xinhua]
Premier Li Keqiang on Nov 24 urged rescue workers to spare no efforts after an accident at a construction site in Yichun, East China's Jiangxi province, left 67 people dead when a platform of a power plant's cooling tower collapsed.
Premier Li urged the rescue workers to put lives first, saving trapped people and treating the wounded.
He also urged setting up a State Council team to help the rescue work, investigate the cause of the accident and punish those accountable according to laws.
The accident occurred about 7 a.m. on Nov 24, leaving at least 40 people dead and others trapped in the debris, according to Xinhua News Agency.
He also urged local authorities to conduct more effective supervision and precaution work to prevent fatal incidents in the future.