Zhanjiang to launch general inspection on production safety
By Cao Xiating(chinadaily.com.cn) Updated: 2015-01-12
Zhanjiang will launch a general inspection on production safety from the beginning of January to ensure safety and security during Spring Festival and the "two sessions".
Wang Zhongbing, mayor of Zhanjiang city, demanded the Zhanjiang government launch a general inspection on production safety. He also demanded that officials have a zero-tolerance attitude and stick to strict enforcement of law during the campaign.
Wang said that the end of the year would be a peak time of production safety accidents, as 64 people have died and 83 more people have been wounded in major accidents across the country during the last month.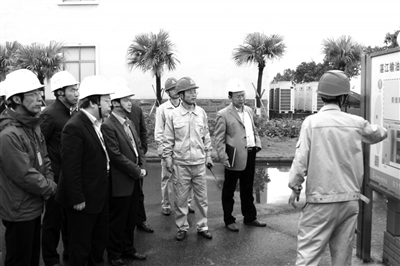 Zhanjiang will launch a general inspection on production safety from January to ensure security during Spring Festival.   Photo from Zhanjiang Daily
Wang said the major accidents have incurred great losses and should be an alarm bell for all. "Safe production can never be off duty," Wang said. Zhanjiang is facing a severe production safety situation.
Although the city has witnessed no major accidents in recent years, a series of minor accidents such as an explosion on a Zhejiang oil tanker in Zhanjiang Bay and a fire in a commercial building have raised concerns.
The safety production inspection would cover all fields and industries, including manufacturing, transportation, fishing and agriculture, and commerce. Wang said that the inspection should focus on enterprises, and responsibility should be defined in a clear manner for persons in charge.
Enterprises with potential risks for safety production should rectify their problems promptly. Governments at all levels in Zhanjiang city will take part in the campaign, and assignment of responsibility has been made for each department.