WHO head pays tribute to mobile team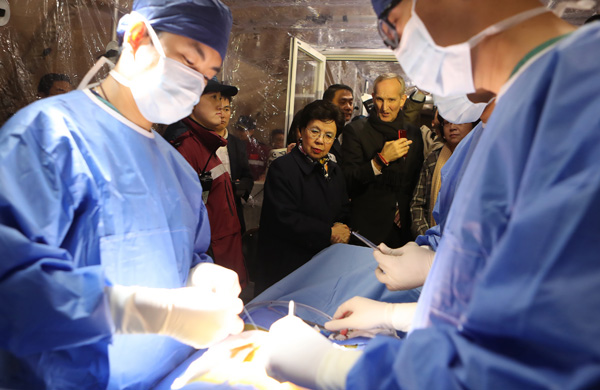 Margaret Chan, WHO director-general, watches a simulation surgery during her visit to a Shanghai-based emergency rescue team on Tuesday. [Photo by Gao Erqiang/China Daily]
Margaret Chan, director-general of the World Health Organization, paid an inspection visit on Tuesday to a Shanghai-based emergency rescue team, one of three such teams that became the first to join the WHO's Emergency Medical Team Initiative earlier this year and the only one in China.
Chan urged the team, capable of providing mobile emergency field hospitals and staff members in response to natural disasters and disease outbreaks, to gain more practical knowledge from rescue teams that have been to the world's hardest-hit regions.
"You should communicate more with those who have participated in rescue missions in places such as West Africa, where resources are limited and sanitation conditions are poor, to gain a better understanding of how to prioritize workloads in changing circumstances," Chan told the team members during her visit to a mobile emergency field hospital, which cost 150 million yuan ($22 million) and is comprised of more than 10 large tents, during a team drill involving 60 doctors and nurses from Shanghai East Hospital.
"I appreciate your contributions to the global health mission, which help the Chinese government and people to build relations with foreign countries," Chan said.
Core members of the team have previously participated in rescue work after major disasters, such as the 8.0-magnitude Wenchuan earthquake in Sichuan province in 2008 and the 7.1-magnitude Yushu earthquake in Qinghai province in 2010.
"China's investment in health reaps rewards not only for its own population, but also for the rest of the world. The Shanghai team is registered with the WHO for emergency deployment when the next regional or global outbreak strikes," said Bernhard Schwartlander, WHO representative in China.
The mobile hospital will serve as a comprehensive medical treatment institution after disasters when regular medical facilities are compromised, said Liu Zhongmin, team leader and president of the hospital.
The mobile hospital's medical treatment area includes outpatient services, a laboratory, a blood bank, a pharmacy and an operating room, while its logistics support area includes an energy supply warehouse, catering, sewage treatment and toilets.
"The capacity for outpatients is at least 200 people per day and we have 26 beds in the mobile hospital," said Chen Chunhua, a doctor on the team who is from Shanghai East Hospital's department of emergency surgery.
Chan said one major issue with such field hospitals is cross infection.
Liu said the entire mobile hospital is equipped with a ventilation system and the medical staff are required to wash their hands and change their clothes regularly to reduce the risk of cross infection.
"The operating room is equipped with a custom-made air purifier imported from Germany to ensure air coming into the operating room is sterilized. Even heart and brain surgeries can be performed here," Liu said.
Shan Juan contributed to this story.