Corruption fighters set for provinces
Independent commissions will work without interference in pilot programs
Three provincial authorities have been chosen to try out a new anti-graft commission next year as a way to streamline efforts to combat major corruption, the top discipline watchdog said on Tuesday.
The commissions, to be tried in Beijing and in Shanxi and Zhejiang provinces starting in January, will be independent from local government to prevent interference, according to a source that declined to be named with the Communist Party of China's Central Commission for Discipline Inspection.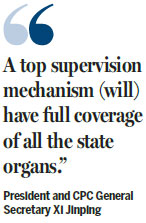 Members will be elected by local legislators in December and headed by the provincial Party chief, the source said.
The CCDI said the commissions "will integrate local anti-graft resources and expand the scope of investigations, to ensure full coverage of all government officials and public servants involved".
The bodies will work together with provincial discipline inspection commissions, while local government supervision departments may be wound down. Several agencies are now tasked with tackling corruption, including supervision, auditing and prosecuting departments, and often their work overlaps.
Ma Huaide, vice-president of the China University of Political Science and Law, said the pilot commissions will run parallel to local government, prosecutors and courts, so they can "independently exercise their duty to effectively monitor government officials and public servants, prevent them abusing their power, and build a clean government".
Since November 2012, when the nation's new leadership was elected, CPC General Secretary Xi Jinping has conducted a sweeping campaign against corruption.
In 2013, Zhao Zhongquan, senior official at the top anti-graft watchdog, published an article in the Study Times, saying that "the anti-graft mechanism in operation is not clearly defined by law, and has low efficiency or scattered forces to handle graft issues".
Zhao cited the urgent need "to draft an anti-corruption law and integrate separate anti-corruption agencies to improve efficiency".
This January, Xi, at a key meeting of the top anti-graft watchdog, pointed to the need for "a top supervision mechanism to have full coverage of all the state organs and its governmental officials aimed at eliminating corruption".
Legislatures in Beijing, Shanxi and Zhejiang are expected to hold meetings in December to set up the new commissions, the CCDI said.
Hong Daode, a law professor at the China University of Political Science and Law, said, "The new anti-graft commissions will be supervised by the provincial legislative body, the public and the media."