Frosty front to bring blue skies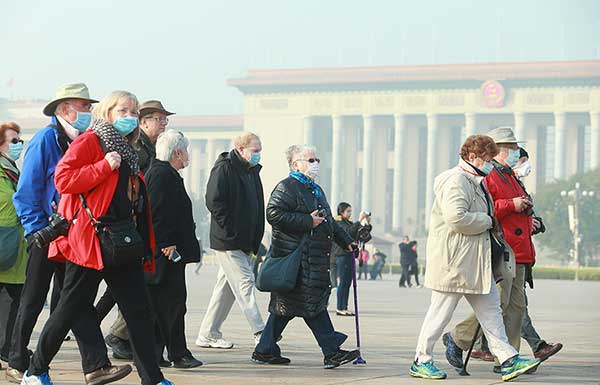 Sightseers don face masks to stay safe in the smog during a visit to Beijing's Tian'anmen Square on Saturday.Zou Hong/ China Daily
The severe smog that clouded large areas of the north and caused travel chaos over the weekend was forecast to disperse from Monday as a cold front moves in.
Gale-force winds coupled with plunging temperatures will clear the skies of much of the accumulated airborne pollutants, according to the National Meteorological Center on Sunday.
Many cities in the north will see snow, while the mercury is expected to fall to a record low in central areas, such as in Changsha, capital of Hunan province, the center said.
The weather office in Beijing has issued a blue alert - the lowest in a four-tier system - for gales on Monday and Tuesday.
Smog has covered over 1 million square kilometers in the north and northeast of the country since Wednesday. In 11 cities, including Anshan in Liaoning province, the air quality index reached as high as 500 on Saturday, according to the Ministry of Environmental Protection.
Reduced visibility due to air pollution led to the cancellation of more than 500 flights in Beijing, while many expressways were closed for several hours due to safety concerns.
Chen Jining, the minister of environmental protection, has called for tough measures to reduce air pollution and sent more than 12 inspection teams to monitor the actions of local authorities.
These teams have already highlighted many problems, including illegal pollutant discharges by steel and coal plants, and weak government supervision. During the most recent inspection, 39 companies were named and shamed, and local officials were urged to mete out heavy penalties, the ministry said.
Data from the ministry that breaks down the major sources of PM2.5 - tiny particulate matter that is hazardous humans - by region show that vehicle exhaust fumes remain the biggest concern, particularly in Beijing.
Areas affected by the smog have introduced emergency measures to cut air pollution, such as suspending polluting industries and restricting the use of vehicles.