Baby chimp loves her four 'mannies'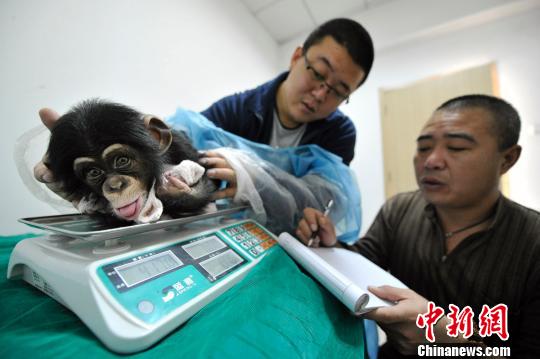 "Mannies" and the chimp. [Photo/chinanews.com]
The most important task is to feed her. They took turns to feed her every three hours at the beginning, including disinfecting milk bottles, mixing the milk powder, feeding and burping her.
"We had to be cautious about the water temperature. She would be scalded if it was too hot, and suffer from diarrhea if it was too cold," Zhu said. "Sometimes it took more than 40 minutes to feed her as she often did not cooperate."
"Although we are all fathers ourselves, we never took care of our own children so meticulously," he says. "She is now able to crawl, and is practising with her limbs in the cage. Soon she will be able to walk."
Apart from 12 hours' sleep, she spends most of her time playing alone. To keep her company, the mannies got her a toy bear. "She likes it very much, and often kisses it," Zhu says.
Over the past months, the mannies have grown very familiar with the chimp, figuring out her needs based on her different cries, chuckles and gestures. And she likes them.
"Hearing our footsteps, she gets excited," he said.
The fertility rate for chimpanzees is not high in China and the babysitters have not given up trying to form a bond between the chimp and her birth mother.
"We are trying to establish their eye contact first and then physical contact," Zhu says. "We hope to return her to her family when she can fit in."