Latvia greets first trans-Eurasia cargo train from China
RIGA - The first trans-Eurasia container train linking China and Latvia arrived here on Saturday afternoon, marking a milestone in the history of the two countries' cooperation in transport and logistics sectors.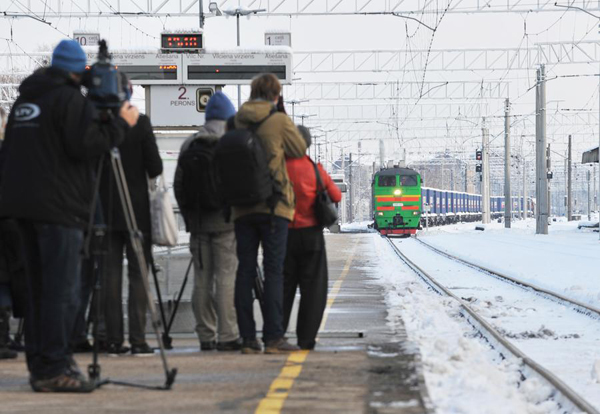 The first trans-Eurasia container train linking China and Latvia arrives at Central Station of Riga around 1:20 pm local time.[Photo/Xinhua]
Amid the sounding of trumpets and drums, the bright-colored freight train consisting of 84 containers entered the Central Station of Riga around 1:20 p.m. local time, and was greeted by a huge round of applause from a crowd of government officials, entrepreneurs, rail workers and journalists.
The direct freight route was then announced successfully inaugurated at a welcoming ceremony on the platform as representatives from both countries cut through a long red ribbon with golden scissors.
The train departed on Oct. 20 from Yiwu, a vibrant manufacturing hub in east China, and finished a journey of over 11,000 km following the China-Russia-Latvia route.
The containers were packed with small commodities made in Yiwu, mainly decorative items and souvenirs, Xiong Tao, deputy major of the city, told Xinhua ahead of the ceremony.
"Riga is the destination of the train, but not of these commodities. After the arrival, they will be distributed to different eastern European or Scandinavian countries within one to three days," he said.
Latvia is the first Baltic nation to have established a direct rail freight route with China under the unified brand China Railway Express which refers to all rail routes connecting China and Europe, thanks to the country's position as a major transport and logistics transit in the region.
The project was conceived in July during a visit to China by the Latvian Minister of Transport Uldis Augulis, who at Saturday's ceremony lauded the tremendous efforts made by both sides to fulfil the ambition within only three months.
"Every success story begins with an idea to try. China and Latvia made a decision to try something unprecedented, and now it has been realized. A lot of hard work has been put into it," said the minister.
He hailed the historical route as a great opportunity for both China and Latvia to work shoulder to shoulder to bring benefits for their economies.
"Latvia serves as a gateway to Europe because of our geographic location and China opens gates for us to Asia," he explained. "We're seeing a good example of our cooperation today on this platform. If people want to work together, if they share common understanding of ideas, then they can achieve great results."
Speaking at the ceremony, He Lifeng, deputy head of China's National Development and Reform Commission, said that the trans-Eurasia container trains were a "new organization model of international cargo transport" in response to the expansion of investment and trade between China and Europe.
He attributed the recent boom in China-Europe rail freight routes to the steady progress made in the implementation of the China-proposed Belt and Road initiative.
The Belt and Road initiative aims to build a trade and infrastructure network connecting Asia with Europe and Africa along the ancient Silk Road routes.
Since the Initiative began to take shape, over 2,000 trains have passed from China to Europe along some 40 lines.
"As an old Chinese saying goes, a one-thousand-mile journey can only be completed with incremental steps. We'll take such steps with Latvia to boost investment and trade, and we will welcome more Latvia products to China on the container trains," He added.