Auction of stolen or smuggled relics banned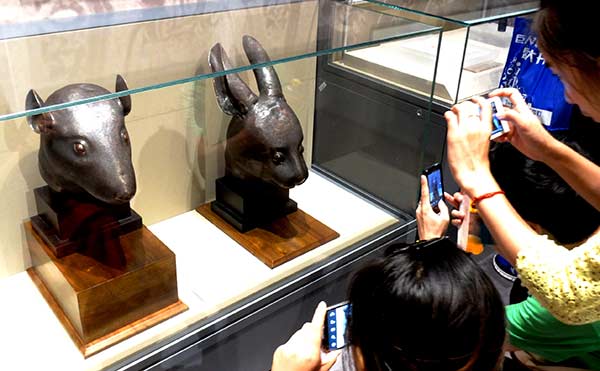 Visitors at the National Museum of China in Beijing view the bronze heads of a rabbit and a rat in 2013 that had been looted in 1890 and returned to China three years ago by a French businessman.Li Xin/ Xinhua
A new regulation that bans the auction of stolen, smuggled and looted cultural relics reinforces China's firm stance on preventing the loss of relics and retrieving those that have been illegally transported abroad.
The State Administration of Cultural Relics issued the regulation on Oct 20 on its website, specifying the types of cultural objects that, if originally obtained illegally, cannot appear in sales.
They include all types of artworks dating before 1949, as well as documents and objects of historical importance and works of late modern artists that are restricted by law from exportation.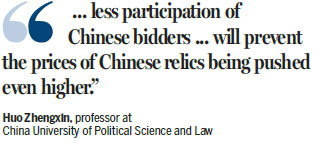 Also banned at auction are cultural relics that are confiscated and recovered by the government and that are collected or stored by governmental bodies or nongovernment museums.
The regulation also stresses the State Administration of Cultural Relics' right of priority on purchasing legally obtained cultural relics that have made it to auction.
In recent years, the number of Chinese buyers bidding for Chinese antiques at auction worldwide has increased. Some of the items were obtained through such illegal means as archaeological poaching and illegal exporting.
In 2013, French businessman Francois-Henri Pinault returned to China the bronze heads of a rabbit and a rat that had been looted from Beijing's Old Summer Palace by the Anglo-French forces during the Second Opium War in 1890. Their appearance at auction in 2009 had aroused anger in China.
The new regulation reiterates that the government discourages private buyers from purchasing cultural relics abroad that were flown out illegitimately, said Huo Zhengxin, a professor at China University of Political Science and Law in Beijing.
"It means buyers cannot resell them back home. And less participation of Chinese bidders, who now play a big role in the global art market, will prevent the prices of Chinese relics being pushed even higher," he said.
Declaring such commercial transactions not legitimate helps to pave the way for the Chinese government to retrieve looted art treasures through legal and diplomatic channels in the future, he added.
Liu Shuangzhou, a professor at Central University of Finance and Economics in Beijing, said that auction houses must provide auction catalogs to cultural relics departments for review and verification before sales.
While the regulation is not implemented in Hong Kong, judicial cooperation is needed between the central government and the Hong Kong Special Administrative Region when looted cultural relics are found to be headed for auction, Liu said.
linqi@chinadaily.com.cn