Friends or internet: how Chinese students learn about sex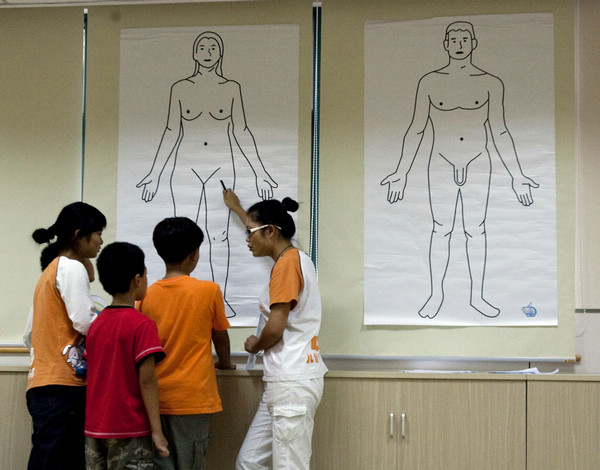 Gao Weiwei (right), a lecturer, talks to students about the human body at a summer camp focusing on sex education. The camp, believed to be the first of its kind in Shanghai, was established in 2009. [Photo by Zhang Dong/for China Daily]
An investigation by the Chongqing Research Academy of Education Sciences (CRAES) found there is a great need for sexual education in primary and middle school students in China, reported the Chongqing Evening News on Monday.
The investigation revealed that nearly 40% of students receive their sexual knowledge through peers or the internet. A quarter of students did not understand what sexual behavior is.
According to the media report, only 16% of Chinese students say they are taught sex education in schools, while 46% of students wanted a subject on sexual education.
As sexuality is a socially difficult topic to approach, the CRAES found that when given sexual puzzles, half of the students preferred to discover the answers themselves, while less than 20% wanted to ask parents for help, and less than 10% wanted to ask teachers for help.
However it's not just children who are shy around sexual issues, but Chinese parents. When movies showed intimate pictures, only a third of parents would take the chance to teach children about sex, while the rest either prevented their children from watching or remained silent.
Formal sexual education is important as it teaches children how to deal with different sexual situations, in particular, sexual abuse or harassment. If confronted with sexual harassment, 68% of students felt they could tell a parent they trusted, 65% would report to the police, 11% would be willing to be physically examined at a hospital and 8% remain silent.
As to premarital sex, over half of students believed it is fine based on love or mutual willingness.
Studies by the World Health Organisation (WHO) in Europe have shown that implementing sexual education in schools reduced teenage pregnancies and abortions, sexually transmitted infections (STIs), sexual abuse, and homophobia. In addition, sexual education can give young people the tools and confidence to develop healthier and stronger relationships.
Wang Weihong, vice president of CRAES, said that the situation in China is a three-part problem involving the backward approach to sex from parents, the incomplete sexual education system in schools, and the lack of effective supervision over social media. He suggested a formal course on sex education should be set up throughout primary and middle schools in China to enhance healthy sexual practices and behaviour.