Beijing Police release investigation report on hotel attack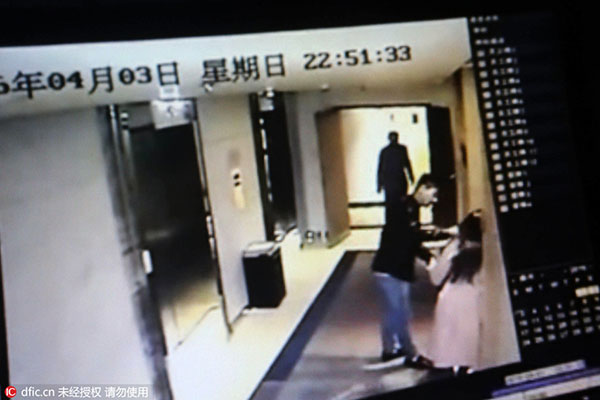 Screen capture of the video showing a man was standing in front of the hotel door and started following the woman. [Photo/IC]
The Beijing Police have released an investigation report on the alleged attack on a woman in Beijing's Heyi Hotel earlier this year. The incident generated much commotion in China.
The man in question, surnamed Li, has been charged with pandering, after Beijing Chaoyang District Court formally accepted the case earlier this week.
The local procuratorate announced that the 25-year-old from Henan province only received his junior middle school education and was unemployed at the time of the crime.
Li admitted that he belongs to a prostitution ring and he was acting as a procurer on the night of the attack.
He was also charged with another offence of procuring a 28-year-old prostitute surnamed E with two clients in the Heyi Hotel this March.
Li informed the police about an accomplice, a 30-year-old man surnamed Liu, who is now under investigation over engaging in prostitution and extortion by blackmail.
The hotel attack happened when Li approached a young woman looking for her room card at Heyi Hotel, the flagship of the Homeinns Hotel Group in early April.
He asked the woman which room she was staying in and then attempted to drag her away. Believing she was a trouble-maker sent by competitors he called his associates for help, but the woman fought back and Li quickly escaped scene.
She then posted her story along with the security footage of the incident on Weibo. Her posts sparked heated discussion among Chinese netizens.
In response to the case, Chinese hotel group Homeinns have issued a formal statement online apologizing for the inadequate management over the assault against the young woman.
The hotel chain also pledged to investigate the case thoroughly with the police.