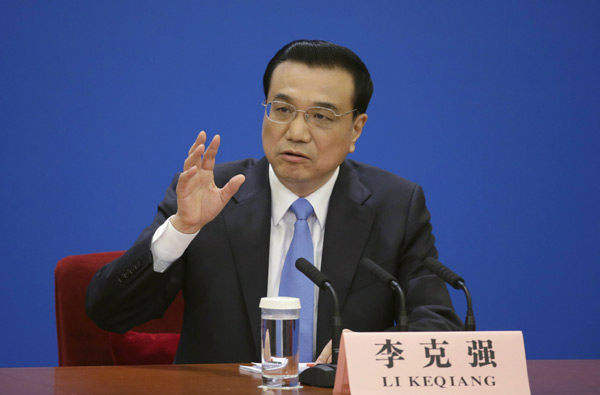 China's Premier Li Keqiang gestures as he speaks during the annual news conference following the closing session of the National People's Congress (NPC), or Parliament, at the Great Hall of the People in Beijing March 15, 2015. [Photo/Agencies]
China is "fully capable of avoiding systemic and regional financial risks" as the government has stepped up regulation of local government debt, Premier Li Keqiang said on Sunday.
Li acknowledged that the ratio of banks' non-performing loans has increased, but said that it remains low by international standards.
"The Chinese economy continues to operate within the proper range and there is a very high saving rate in China," Li said at a news conference in Beijing at the conclusion of the annual session of the National People's Congress.
Ballooning local government debt has prompted the government to issue an additional 1 trillion yuan ($160 billion) in low-yield bonds to replace local governments' existing high-interest debt. The move is to ease local governments' mounting interest repayment pressure.
"We are regulating these local government financing vehicles to ensure that we keep the front doors open and at the same time block those back doors," Li said.
About 70 percent of local government debt is in the form of investment, which is supposed to have quite good prospects for yielding returns, according to the premier.
The non-performing loan ratio stood at 1.25 percent by the end of last year, a rise of 0.25 percentage point from a year ago.
Meanwhile, Li said that China will introduce the deposit insurance system, which will protect savers' interests and promote market-based competition among large and small banks.
The system will provide coverage of a maximum of 500,000 yuan for each client's deposits at a bank. The central bank said earlier that such an arrangement would cover 99.6 percent of the nation's depositors.
The country will also accelerate the development of multi-layer capital market to lower enterprises' financial costs and ensure that the financial industry better serves the economy, Li said.