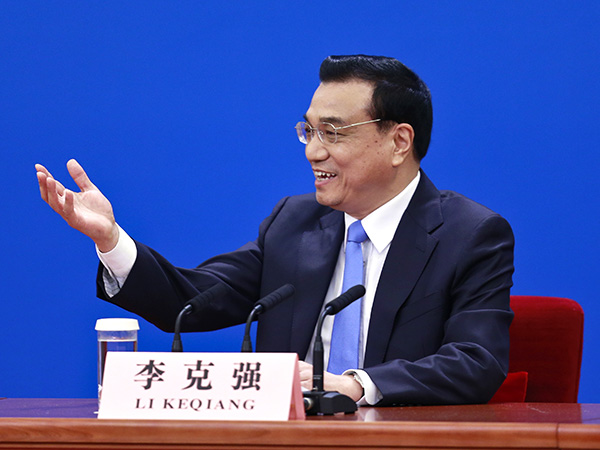 Chinese Premier Li Keqiang speaks at a news conference after the closing session of the annual National People's Congress, at the Great Hall of the People, in Beijing, March 15, 2015. [Photo By Feng Yongbin/chinadaily.com.cn]
BEIJING - Premier Li Keqiang said on Sunday that the mainland will continue to deepen economic cooperation with Taiwan.
"In terms of opening-up, we will give priority to Taiwan both in terms of the depth and the intensity of such opening-up steps," Li told reporters at a news conference following the conclusion of the annual session of the National People's Congress.

"To boost economic cooperation between the two sides, we need to … enhance institution building, for example, to continue to pursue the follow-up consultations on ECFA (the Economic Cooperation Framework Agreement)," he said.
He added that steps would also be taken to expand "further mutual opening-up.
"As far as the mainland is concerned, closer attention will be paid to investment by Taiwan businesspeople on the mainland."

The premier noted that cross-Straits economic cooperation will enjoy a bright future as long as the two sides continue to adhere to the One-China Principle and the 1992 Consensus, oppose "Taiwan independence", and uphold the peaceful development of cross-Straits relations.

"We welcome people from Taiwan businesses … to come to the mainland to pursue their own careers and business opportunities. We also want to further enhance personnel exchanges between the two sides, so they can bring the hearts and minds of the two sides' people even closer to each other," said Li.
A total of 136 investment projects from mainland businesses were given green light in Taiwan in 2014. Statistics show that investment in Taiwan from the mainland reached 334.63 million US dollars last year.
In the meantime, 388 Taiwan investment projects on the mainland were approved by the island in 2014. The investment totaled 9.83 billion US dollars, a 13.18 percent increase from 2013.