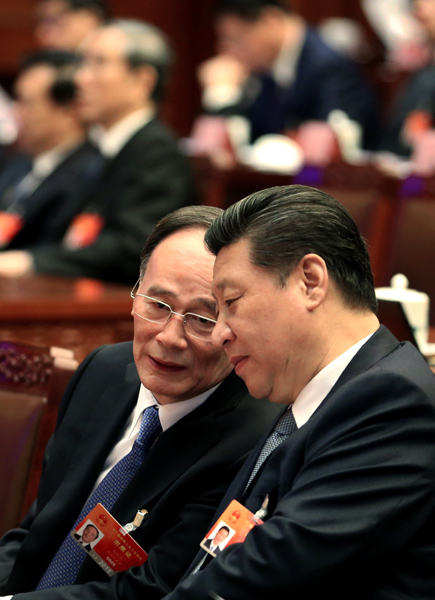 President Xi Jinping talks with Wang Qishan, head of the Central Commission for Discipline Inspection, at a preparatory meeting for the third session of the 12th National People's Congress in Beijing on Wednesday.[WU ZHIYI/CHINA DAILY]
President calls for strong opposition to 'independence', while stressing peaceful progress made in cross-Straits ties
President Xi Jinping called for "firm opposition" to pro-independence forces in Taiwan on Wednesday, while stressing the peaceful development of cross-Straits ties.
Pro-independence forces are the biggest obstacle to the peaceful development of ties between the two sides and the biggest threat to the cross-Straits peace and stability, Xi said.
He made the comments during a panel discussion with members of the National Committee of the Chinese People's Political Consultative Conference whose annual session is being held in Beijing.
"The separatist forces of 'Taiwan independence' and their activities threaten national sovereignty and territorial integrity," Xi said.
"They intend to provoke the opposition of people and society across the Straits and to sever the psychological bond of the cross-Straits compatriots."
His remarks come after the island's ruling party, the Kuomin-tang, lost a series of traditional strongholds in local elections in November.
Cross-Straits ties have improved markedly since the party regained the leadership of Taiwan in 2008. But its poor electoral showing last year has made the main opposition Democratic Progressive Party, which is pro-independence, a strong contender in the 2016 "presidential" election.
Xi underscored the landmark 1992 Consensus between the island and the Chinese mainland, saying no obstacle exists to exchanges between any political parties and groups in Taiwan and the mainland as long as there is shared consensus that the mainland and Taiwan belong to one and same China.