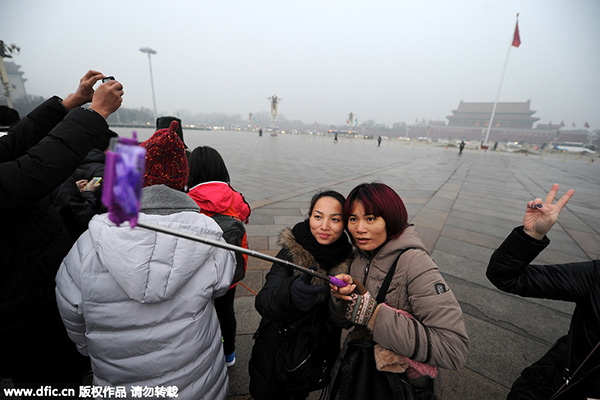 Tourists take pictures at Tian'anmen Square in Beijing, Dec 14, 2015. [Photo/IC]
BEIJING -- Beijing activated measures for the highest-level air pollution alert on Saturday morning, a move the local environmental regulator says will help mitigate pollution.
The Chinese capital issued its second red alert this month on Friday as smog is forecast to hit much of northern China, including Beijing, from Saturday to Tuesday.
Measures such as limiting vehicles on roads according to odd-even license plate numbers and banning fireworks and outdoor barbecues have been in force since 7:00 a.m. Saturday morning.
Yet some have questioned the necessity of implementing the measures so early when the air is just slightly polluted.
Wang Bin, head of the emergency response division of the Beijing Municipal Environmental Protection Bureau, said Saturday that measures were enacted in advance to lessen the pollution's impact and help the public prepare for the upcoming smog, which is forecast to be worse than the previous round this month.
Authorities said the red alert issued earlier this month prevented further deterioration of air quality. Data showed the average discharge of pollutants in the city dropped 30 percent just 10 hours after red alert measures were put in place.
The National Meteorological Center said Thursday that parts of north China will see the worst smog so far this year starting Saturday.
Visibility in Beijing and some neighboring regions will be reduced to less than one kilometer. The density of PM2.5, particles smaller than 2.5 micrometers used to measure air quality, will exceed 500 micrograms per cubic meter in some regions. The World Health Organization's recommended maximum is 25 micrograms per cubic meter.
Citizens are advised to reduce outdoor activities, and kindergarten through middle school classes will remain suspended as long as the alert stays active.