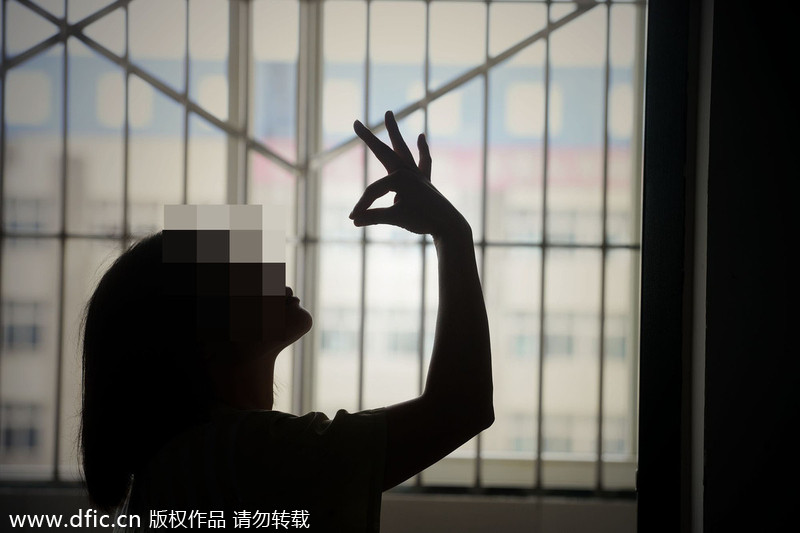 Le Xin dances at Chongqing Women's Prison in this undated photo. [Photo/IC]
With a well-proportioned figure and soft movements, 34 year-old Le Xin (not her real name) was holding the last classic pose in a Dai ethnic dance, seemingly ignoring the lasting applause and cries of "encore".
"If I were not in this prisoner's suit, I could do better," said the delicate-looking female inmate at Chongqing Women's Prison in Southwest China.
"I will be free this year. Thirteen years in jail is like a journey of self-salvation, and I've experienced a complete transformation," she said.
Le was raised in a middle-class family - the fact that she was set up for life left her wanting for nothing. After graduating from college, she hung out in bad company and was unemployed.
"I was in a naïve, simple state of mind. I cherished my so-called brotherhood, and fought for those idlers who goofed around with me."
After her parents died in 1999, Le felt lost, and became more reckless.
In 2001, she was sentenced to life imprisonment for robbery. Unaware that life can be commuted to a specific term and feeling hopeless, Le plunged into total self-degradation. She fought with fellow inmates and waged war on prison guards.
She continued causing trouble until the winter of 2002. After she misbehaved again an officer showed her legal material and explained that life imprisonment can be reduced to a certain number of years.
A six-hour heart-felt talk moved her. She didn't realize the effect at that point, but later found herself more calm and attentive to work and study.
At the end of 2002, Chongqing Women's Prison organized recreation for prisoners, and that was the time Le found her strength.
"The officer advised me to join a group dancing performance. I had never danced before, and had never been on a stage, but I agreed,"she said.
Le started practicing with seven other female inmates. Within a fortnight they went on stage.
"We did Dai ethnic dancing. The show was very successful, all of the audience clapped for us," she said.
"It was the first time I felt recognized since I went to jail. I started to feel that I'm not that bad."
In 2003, the prison selected a host for a cultural activity. Le, for the first time, voluntarily signed up and stood out at last, becoming the host throughout the event.
Later she became a regular participant in recreational events, and started to organize dances and short comedies. She eventually found something she was interested in, and could gain confidence from.
On Nov 5, 2004, Le had her punishment reduced from life imprisonment to 18 years in prison.
Since then Le's sentence has been commuted several times more and her final prison term has been reduced to 13 years. She will be released later this year.
Le Xin said after prison life, she has turned from a rebellious girl into a mature woman.
"I used to do whatever I wanted and paid no attention to the consequences. I paid a huge cost," she said.