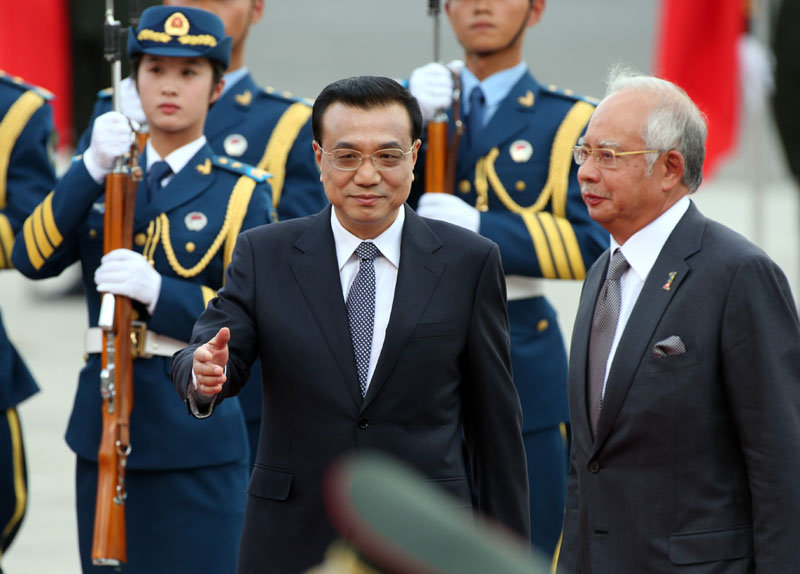 Chinese Premier Li Keqiang (L) greets visiting Malaysian Prime Minister Najib Razak during a welcome ceremony in Beijing, May 29, 2014. [Photo by Wu Zhiyi / chinadaily.com.cn]
BEIJING - Premier Li Keqiang urged Malaysia to work out a new plan concerning the search for missing Malaysia Airlines flight MH370, during a meeting with visiting Malaysian Prime Minister Najib Razak in Beijing on Thursday.
Li said the search has not been called off, and China considers the hunt for the plane – as well as other issues related to the incident – one of its priorities.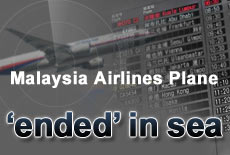 He called on Malaysia to maintain its leading role in the search, continue its investigation, and to communicate with the relatives of passengers on board.
"We are saddened by the tragic incident that has happened to all the passengers and the crew on broad, and our deep sympathy goes to the relatives of the passengers," Li said.
Razak, who is on a six-day visit in China, said his country will do "whatever we can" to comfort the relatives of the passengers.
"Malaysia will continue the search together with China, Australia and other countries," he said, "This tragic incident is so complex and unprecedented, so it requires cooperation with many countries for it to be successful."
He also said that though it has been a very "painful and testing" time for Malaysia and China, he believes the "understanding, friendship and partnership" that have developed over the years will enable the two countries to work together and find answers concerning the fate of the plane.
"Let me once again express our sorrow and condolences to the next of kin," Razak said.
Flight MH370, which disappeared on March 8 en route from Kuala Lumpur to Beijing, was carrying 239 people, including 154 Chinese.