Xi's trip help Asia-Pacific boost world economy
( Xinhua )
Updated: 2013-10-09
BEIJING - Chinese President Xi Jinping's Southeast Asia trip and his presence at an Asia-Pacific Economic Cooperation (APEC) meeting will help the region continue serving as an engine for world economic growth, a senior Chinese official said on Tuesday.
Chinese Foreign Minister Wang Yi told reporters on Tuesday that while attending the two-day APEC economic leaders' meeting, Xi proposed that regional members increase the openness of their economies, and promote policy coordination, common development and the integration of interests in the area.
Under the theme "Resilient Asia-Pacific, Engine of Global Growth," this year's APEC gathering started on Monday on the Indonesia's resort island of Bali.
APEC is considered a premier economic forum in the Asia-Pacific region that was established in 1989. It has been committed to dismantling trade barriers while nurturing closer economic ties.
The organization now has 21 members across the region, accounting for approximately 55 percent of global gross domestic product (GDP) and 44 percent of global trade, according to data provided on its official website.
At the meeting, Xi called on all regional members to further their economic restructuring, oppose trade protectionism, and boost cross-Pacific inter-connectivity.
Yang considered these proposals important for the region to handle current challenges, and draw up plans for the future.
In Bali, the Chinese leader also urged regional economies to coordinate their free trade arrangements in the spirit of openness, inclusiveness, cooperation and all-win, said Yang.
While addressing the APEC meeting on Monday, Xi warned against a world trade regime fragmented by various free trade arrangements, and called for determination to conclude the long-stalled Doha Round of global trade talks.
He also noted that while the international community are working to push forward the Doha Round, various free trade arrangements in the Asia-Pacific are advancing in parallel, each with different rules, standards and preferred pathway.
China believes that "any arrangement should lead to a cooperative relationship, not a confrontational one, an open mindset, not an exclusive one, win-win results, not a zero-sum outcome, and integration, not fragmentation," he said.
The Chinese president also turned his trip into a platform on which he explained to leaders of other regional partners why China's economic growth rates are slowing down, and expressed his full confidence in the future development of the Chinese economy, said the foreign minister.
In his speech to an APEC CEO summit on Monday, the Chinese president stressed that the slowdown is an intended result of China's economic restructuring.
"I am confident because first of all China's growth rate is within the reasonable and expected range," said Xi, adding that "everything has been going as expected and nothing has come as surprise."
China is working to move away from over-reliance on investment and export, and trying to stimulate domestic demand to boost growth. It, instead of taking GDP growth as the sole criterion for success, is now focusing more on improving the quality and efficiency of growth.
Meanwhile, Xi also reassured regional members that what China will bring to Asia and the world is opportunities for development, not threats.
"China has achieved its own development, and at the same time, China's development has also contributed to regional economic growth," said Xi in his APEC CEO Summit speech.
Yang said that Xi's Southeast Asia trip has played a key role in promoting a favorable and stable neighboring environment for China.
He noted that it is Xi's fourth overseas visit since the beginning of this year, which, together with previous tours, has already taken the Chinese leader to Asia, Europe, Latin America and North America.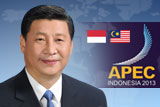 Thoughts after hearing Xi's speech
I was very happy to see that Xi Jinping did focus on trade and on the importance of Asia Pacific trade being cooperative and inclusive.