Common foreign currency reserve may be a goal
By Wei Tian ( China Daily )
Updated: 2013-10-08
APEC member economies could work toward a common foreign currency reserve to promote regional financial stability, an expert says.
Finance Minister Lou Jiwei said during an Asia-Pacific Economic Cooperation gathering of finance ministers in Bali on Sept 20 that multilateral foreign-exchange swap arrangements may be put in place to support economies facing difficulties from "external shocks".
He did not give further details on which ministers had raised the idea or which countries the arrangement would support.
South Korean Finance Minister Hyun Oh-seok was quoted by The Wall Street Journal as saying the Chiang Mai Initiative is still highly important and it is best to strengthen it.
This initiative is a multilateral currency swap arrangement among APEC members as well as China, Japan and South Korea, which draws from a common foreign exchange reserve pool worth $240 billion.
Luo Yongkun, a researcher at the China Institute of Contemporary International Relations who specializes in Southeast Asia, said an expanded version of the Chiang Mai Initiative would help promote regional financial stability among APEC members.
Yi Gang, deputy governor of the People's Bank of China, the central bank, said China has already signed currency swap agreements worth more than 1.4 trillion yuan ($229 billion) with the Association of Southeast Asia Nations.
Last Wednesday, during his visit to Indonesia, President Xi Jinping announced a 100 billion yuan-rupiah currency swap between China and Indonesia to promote trade settlements in local currencies.
Xi said the two countries are considering enlarging the scope of the deal — the continuation of an agreement signed in 2009.
He also called during the visit for the establishment of a bank among Asian countries to offer support on infrastructure construction, in an attempt to promote communication among developing nations in the region, including ASEAN member countries.
Although it is still at a very early stage, Luo said the multilateral currency swap mentioned by Finance Minister Lou could be considered as a source of funding for the infrastructure investment bank, but said this was only an assumption.
However, Luo said currency swaps among APEC members face challenges.
"First of all, it will be harder to coordinate among more members with different policies."
In the meantime, Luo said currency swaps among APEC members means there will be participation from the United States, and the operation of such a mechanism will be very much influenced by the US.
Moody's Investor Service said in its latest report, "In the five years since the onset of the global financial crisis, the performance of the sovereign ratings of the members of APEC has, in general, been of stability and strength."
However, Moody's said APEC members are facing several new challenges, including a subdued outlook for developed markets that constrains demand for the region's exports, and the resurgence of volatility in global capital markets.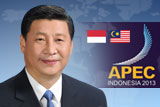 Thoughts after hearing Xi's speech
I was very happy to see that Xi Jinping did focus on trade and on the importance of Asia Pacific trade being cooperative and inclusive.