APEC leaders call for sustainable growth with equity
( Xinhua )
Updated: 2013-10-08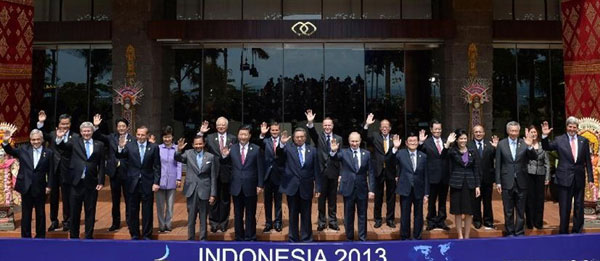 Chinese President Xi Jinping (1st row, 5th L) poses for a group photo with other leaders before attending the 21st informal economic leaders' meeting of the Asia-Pacific Economic Cooperation (APEC) in Bali, Indonesia, Oct 8, 2013. [Photo/Xinhua]
BALI, Indonesia -- Leaders attending the 21st informal economic leaders' meeting of APEC vowed to bridge the development gap and maintain path of sustainable growth with equity, according to a joint declaration issued here on Tuesday.
"We commit to implement workable solutions that will increase resilience, sustain growth and decrease disparity, while improving the welfare of the people in the Asia-Pacific region," the declaration said.
APEC Leaders agreed to take further steps toward empowering, engaging and opening opportunities for their stakeholders to fully participate in their economic growth.
Concrete actions should be considered by APEC members to expand women's participation in the economy by creating an enabling environment for them, the leaders declared.
APEC members could enhance the small and medium enterprises (SMEs) global competitiveness by improving access to finance and markets, and  encourage regional collaboration to facilitate trade finance for SMEs, the declaration said.
Recognizing the crucial role of farmers and fishers, leaders called for strengthening their capacities.
The leaders noted that APEC members could also advance greater collaboration among law enforcement authorities in combating corruption, bribery, money laundering, and illicit trade.
APEC members could strengthen cooperation among government, scientists, and business sector to promote science, technology and innovation in the region.
APEC leader also proposed steps for tackling issues of resource scarcity and natural and human-caused disasters.
They vowed to address the nexus of water, energy and food security through the promotion of integrated policies and collaborative approaches.
To provide lasting food security to APEC economies, APEC leaders reiterated their pledge against protectionism and called on members to enhance supply chain connectivity.
They pledged to pursue cross-sectoral work to maintain the health and stainability of oceans and coastal resources, while continuing to build regional capacity to assist APEC economies to rationalize and phase out inefficient fossil-fuel subsidies.
They also vowed to work to develop clean and renewable energy through public-private partnership, while combating wildlife trafficking by enhancing international cooperation.
The APEC leaders called for promoting sustainable health-care systems,engaging in capacity building efforts and effective regional and global partnerships across the public and private sectors with the aim of addressing emerging infectious diseases and promote understanding on safe and effective use of traditional medicine.
They also promised to work to ensure ease of mobility of emergency responders and their equipment to save lives in the early aftermath of disasters, while improving cooperation in disaster risk reduction.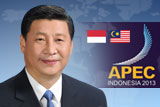 Thoughts after hearing Xi's speech
I was very happy to see that Xi Jinping did focus on trade and on the importance of Asia Pacific trade being cooperative and inclusive.