China, Russia co-work for security in Asia-Pacific: Xi
( Xinhua )
Updated: 2013-10-08
BALI, Indonesia - Chinese President Xi Jinping said here Monday that China would like to work with Russia to guarantee security and stability in the Asia-Pacific region.
While meeting with his Russian counterpart Vladimir Putin on the sideline of an Asia-Pacific Economic Cooperation (APEC) summit, Xi said China and Russia share a wide range of common interests in the region.
Xi said China is willing to join Russia in enhancing their coordination so as to maintain regional security and stability, and promote prosperity.
It was the fifth meeting between the presidents of the two countries since the beginning of this year, which, according to the Chinese president, has shown the distinctiveness of the bilateral ties.
The Chinese leader also hailed 2013 as a fruitful year for the China-Russia relations, noting that a host of accomplishments have been achieved in such areas as practical cooperation, people-to-people and cultural exchanges, as well as in handling international affairs.
He urged the two sides to optimize bilateral trade structure, promote cooperation in energy, resources and high-tech, and to continue with their close communication and coordination on international issues.
Xi also called on the two countries to do a good job in preparing major activities like the regular meetings between the two nations' premiers and the closing ceremony of the Chinese Tourism Year in Russia.
Putin, for his part, said Russia-China relations enjoy a sound momentum with frequent leadership visits, ever growing trade cooperation, as well as cultural and inter-military exchanges.
Both sides also have maintained effective coordination on major international and regional issues, he added.
Noting that Russia-China relations enjoy broad prospects, Putin said he is ready to maintain friendship and close exchanges with Xi to further practical cooperation in various fields, including energy and infrastructure.
Also during their talks, the two leaders agreed to hold activities to commemorate the 70th anniversary for the victory of the World Anti-Fascist War in 2015.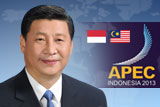 Thoughts after hearing Xi's speech
I was very happy to see that Xi Jinping did focus on trade and on the importance of Asia Pacific trade being cooperative and inclusive.