Star shuttler wins over Chinese hearts
By Sun Xiaochen ( China Daily )
Updated: 2013-10-04
Chinese badminton player Lin Dan comforts injured Malaysian rival Lee Chong Wei during the men's final of the Guangzhou 2013 Badminton World Championships, in August. Lee withdrew from the match due to injury, handing Lin a victory. Provided to China Daily
Lee Chong Wei may regularly cause trouble for Team China on the international stage, but the badminton star courts much respect and love from his huge Chinese fan base.
Malaysia's world No 1 shuttler receives warm ovations and constant support at events in China thanks not only to his elite athleticism, but also his close bond with the country.
The emotional scene during the final of the Guangzhou 2013 World Championships on Aug 11 is solid proof.
When Lee returned to the court with a strained left leg after a medical break during the decider against Chinese favorite Lin Dan, a chant of "Come on Chong Wei!" echoed around the 90,000-seat Tianhe Stadium, as Chinese fans hailed the 30-year-old's fighting spirit.
It was not the first time the Malaysian had enjoyed a home court-style reception in China; he also triggered sensational support from fans at last year's Thomas Cup in Wuhan, Hubei province, and during the 2011 China Badminton Super League when he played for a Guangzhou club.
Nor will it be the last time, as his elegant playing style and approachable personality will continue to win over fans, according to He Xia, a veteran sports reporter for the Sina website.
"It's understandable that Lee is so popular in China," he said. "He has family ties in Fujian province, he speaks fluent Chinese, which clears the language barrier, and his rivalry with Lin has been a hot storyline in the Chinese media."
Although the Guangzhou defeat was Lee's fourth consecutive loss to Lin in a major final, coming after the 2008 Beijing Olympics, 2011 Worlds and the 2012 London Olympics, the streak has not affected his fans' loyalty.
"We will always support him as long as he continues fighting," said Li Xin, a diehard badminton fan and a spectator at the Guangzhou final. "Although he has never won a world title, his persistent efforts have touched many people."
Lee won a silver medal at the 2008 Olympics, which earned him the title Datuk, an honor granted by the Malaysian government to national heroes. He also holds the record for remaining as world No 1 for the longest time, 199 consecutive weeks.
Yet he has never won an Olympic and world title, largely due to Lin's dominance.
Although fierce rivals on-court, the duo maintains a close relationship off it, and both were guests at each other's weddings last year.
In Guangzhou this year, Lin twice reached across the net to check on Lee's injury and later helped medical staff to carry him to the locker room.
"We were no longer opponents then," Lin said. "He is my friend off court, I just wanted to help.
"I feel so grateful and lucky to have had him pushing me on the other side of the court for so many years. Without him, I would never have known where my limit is.
"I cherish every match we had and look forward to more," he added.
Lee echoed the sentiment, and stressed the tense competition on court had only translated into mutual appreciation.
"I enjoy the rivalry with Chinese players and the unconditional support from Chinese fans when I played there," the Malaysian said.
He said he has also benefited from help from former China national coach Li Mao, who trained the Malaysian squad from 2005 to 2007.
Li's expertise on nurturing men's singles players helped Lee fine-tune his shots en route to becoming world No 1.
"He's a really good coach and treated me like a son," Lee said. "It's a pity he left Malaysia, as I feel I still have a lot to learn from him."
Lee is signed with the Guangdong Century City Badminton Club to compete in the China Badminton Super League.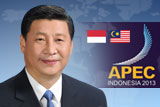 Australia must wake up from the American Fantasy and start living the Chinese Dream. Australian culture is more in line with China than America.