Xi arrives in Jakarta for state visit
By ( Xinhua )
Updated: 2013-10-02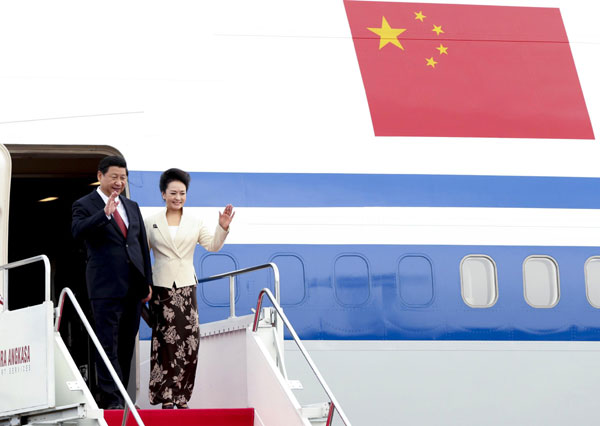 President Xi Jinping and his wife Peng Liyuan wave to the crowd in Jakarta, the capital of Indonesia, Oct 2, 2013. Xi Jinping arrived in Jakarta for a state visit to Indonesia on Wednesday. [Photo/Xinhua]
JAKARTA - President Xi Jinping arrived here Wednesday for a state visit to Indonesia, the first leg of his maiden trip to Southeast Asia since he assumed presidency in March.
Stressing that China and Indonesia are both major developing countries, Xi said closer strategic cooperation between the two countries serves the fundamental interests of both nations and their peoples.
It also conforms to the historical trend of developing countries gaining strength through unity, and helps promote peace, stability and prosperity in the region and the world, said the Chinese president.
"I look forward to in-depth discussions with President (Susilo Bambang) Yudhoyono and other Indonesian leaders on bilateral ties, and international and regional issues of shared interest, so as to map out future cooperation between China and Indonesia and promote common development of our two countries," Xi added.
During his stay in Indonesia, Xi is scheduled to meet with Yudhoyono, Vice President Boediono and parliamentary leaders. He will also attend a luncheon with the business community.
Xi will deliver a speech to Indonesian lawmakers and elaborate on China's vision to promote bilateral ties and relations between China and the Association of Southeast Asian Nations (ASEAN), as well as China's peaceful development.
The Indonesian people anticipate Xi's visit to their country and his attendance of the 21st informal economic leaders' meeting of the Asia-Pacific Economic Cooperation (APEC) to be held in Bali Island of Indonesia, said Yudhoyono at a meeting with Chinese State Councilor Yang Jiechi on Sept 19.
The Indonesian president said he is looking forward to in-depth exchanges of views with Xi on bilateral ties and key international and regional issues to cement friendship, promote cooperation and advance the Indonesia-China strategic partnership.
Indonesia is the first Southeast Asian country Xi visits since he became president, reflecting the country's important role in China's diplomacy with neighboring countries.
Bilateral relations have seen rapid growth with new achievements in friendly cooperation since the establishment of the China-Indonesia strategic partnership in 2005, said Chinese ambassador to Indonesia Liu Jianchao in an interview with Xinhua.
With bilateral trade reaching $66.2 billion last year, four times that of 2005, China has become Indonesia's second largest trade partner. Bilateral trade in the first half of 2013 hit 33.84 billion dollars, up 4.6 percent from the same period of last year.
For three consecutive years, Indonesia has been China's largest market for project contracting in Southeast Asia.
The two countries scored positive achievements in cooperation in the areas of science, technology, education, culture, people-to-people exchanges, defense and security, maritime affairs and aerospace.
After the Indonesia trip, Xi will pay a state visit to Malaysia.
The Chinese president will later return to Indonesia for the APEC meeting from October 7 to Oct 8.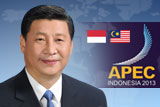 Xi makes a historic trip to the land where countless generations of Chinese have emigrated to, settled down, and melded into.
ASEAN members take lead from Indonesia being the largest of them all in many ways. China's relationship with it must get better.