China, Vietnam able to handle differences properly: Premier Li
Updated: 2013-10-15 09:56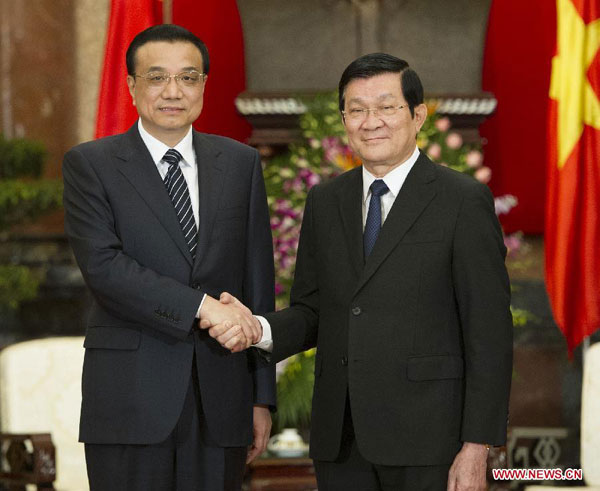 Premier Li Keqiang, left, meets with Vietnamese President Truong Tan Sang in Hanoi, Vietnam, Oct 14, 2013. [Photo/Xinhua]
HANOI - Premier Li Keqiang said here Monday that his country and Vietnam have both the ability and the wisdom to settle bilateral differences in a proper manner.
The two neighbors enjoy a deep-rooted traditional friendship, and the development of each country is an opportunity for that of the other, Li said during a meeting with Vietnamese President Truong Tan Sang.
The premier noted that during his visit the two sides reached new agreements on further deepening bilateral ties and signed a series of cooperation deals and other documents.
Calling for a full implementation of these agreements, Li pointed out the agreement to simultaneously push forward maritime, onshore and financial cooperation between the two countries is of particular significance.
The three-track approach, he added, demonstrates that the two countries have both the ability and the wisdom to overcome the difficulties in bilateral relations, deal with their differences properly, pursue substantive progress in bilateral cooperation, and expand their common interests.
China stands ready to work with Vietnam to steer bilateral relations forward in the right direction and strive for further headway in the development of their comprehensive strategic cooperative partnership, said the premier.
Sang, for his part, extended a warm welcome to the Chinese premier, and recalled his visit to China in June, during which he held talks with President Xi Jinping and met with Li and other Chinese leaders.
Vietnam attaches great importance to its relations with China and is willing to further lift the level of their comprehensive strategic cooperation, Sang said, adding that both the party and the government of his country are content with the achievements the two sides have made during the visit.
The three-track approach is a great idea for promoting bilateral cooperation in the new era, and will certainly lead to further development of Vietnam-China relations, said the president.
Vietnam, Sang added, is determined to carry out these agreements in a sound manner and confident that by doing so the two sides will raise their comprehensive strategic cooperative partnership to higher levels.
Vietnam is the last leg of Li's ongoing first Southeast Asia tour as premier, which has taken him to Brunei and Thailand. While in Brunei, he attended a series of East Asian leaders' meetings and expounded China's policy on promoting regional cooperation and development.
Related
2013-10-15 01:43:17
2013-10-15 01:41:10
2013-10-14 17:01:10
2013-10-14 11:08:35
2013-10-14 10:06:22
2013-10-14 07:30:34
2013-10-14 23:30:30
Oct 9-11: Attends East Asia Leaders' Meetings and Pay State Visit to Brunei

Oct 11-13: Visits Thailand

Oct 13-15: Visits Vietnam