$100b trade target for 2017
Updated: 2013-10-16 00:34
China, Vietnam have capacity and wisdom to deal with differences: Li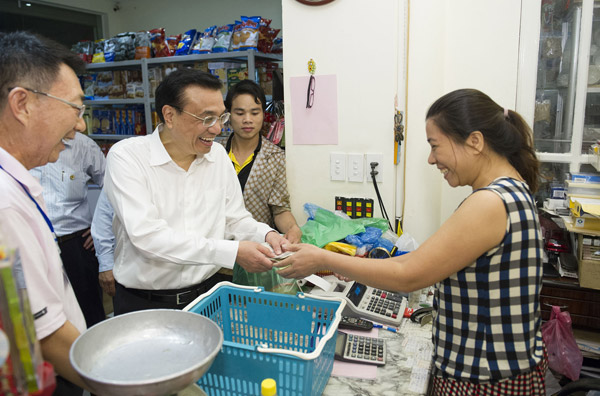 Premier Li Keqiang pays a store owner in Hanoi after buying some tea and food on Monday night. Li, who ended his Vietnam visit on Tuesday, was recognized by the owner when he walked into her store near his hotel. Huang Jingwen / Xinhua
China and Vietnam will achieve bilateral annual trade volume of $100 billion by 2017, Premier Li Keqiang said during a luncheon with business leaders in Hanoi on Tuesday.
China has been Vietnam's largest trading partner for nine years.
Trade volume between the two countries exceeded $40 billion in the first eight months of this year, putting the annual target of $60 billion for 2015 within reach.
"China and Vietnam have the ability and wisdom to overcome difficulties in bilateral relations, deal with differences and expand common interests," Li said in his speech.
In a joint statement issued during his visit, the two countries reiterated a policy of good-neighborliness and comprehensive cooperation. They vowed to be good neighbors, friends, comrades and partners in developing relations.
"Three work teams will be set up to push forward maritime, onshore and financial cooperation between the two countries," Li said.
He also said that China would increase imports from Vietnam to cut the trade surplus.
Currency swap and yuan settlement deals are being discussed to facilitate trade.
Vietnamese Prime Minister Nguyen Tan Dung said his country welcomes Chinese enterprises investing in Vietnam.
China ranks 12th among the 100 countries and regions making direct investments in the country.
Li said Vietnam is one of the major overseas destinations for Chinese investors, and cooperation opportunities abound in infrastructure construction including road, railway, port and energy projects.
Wang Yuzhu, a researcher at the National Institute of International Strategy at the Chinese Academy of Social Sciences, said more efforts should be made to expand investment into each other's economies.
Song Yuhua, a professor at Zhejiang University's College of Economics, said Li's visit signals a new era for China and Vietnam to focus on trade partnership and economic cooperation, which has set a good example for other members of the Association of Southeast Asian Nations.
Many Chinese enterprises have already benefited from the countries' ever-closer economic links.
Li Shaoxing, chairman of Huaxia Machinery Plastics from Zhengzhou, Henan province, opened his first factory in Vietnam to produce plastic braided bags with an initial investment of $250,000 in 2003. The factory, located in Bac Giang province in the north of Vietnam, covers three hectares and has four production lines.
He said business has been good, with a 20 percent net profit margin each year, and he started to export his goods in 2008. He hopes more facilitating policies will be released to benefit Chinese enterprises in Vietnam.
Vietnam was the last stop of Premier Li's Southeast Asia tour after visiting Brunei and Thailand.
Contact the writers at yuran@chinadaily.com.cn and lixiaokun@chinadaily.com.cn
Related
2013-10-15 20:09:00
2013-10-15 18:46:51
2013-10-15 16:34:24
2013-10-15 09:56:44
2013-10-15 01:43:17
2013-10-15 01:41:10
Oct 9-11: Attends East Asia Leaders' Meetings and Pay State Visit to Brunei

Oct 11-13: Visits Thailand

Oct 13-15: Visits Vietnam