Room for Beijing to boost ties
Updated: 2013-10-14 23:36
From Noi Bai International Airport to areas near the Ho Chi Minh Mausoleum in downtown Hanoi, bustling construction sites in Vietnam's more-than-1,000-year-old capital signal the country's efforts to spring back from the economic doldrums brought about by the global recession.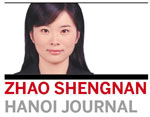 But compared with the obvious economic presence of Japan and South Korea, Vietnam's neighbor China seems to be less engaged in the country's recovery than I expected.
Most of the motorcycles — Vietnam's number-one vehicle — one sees around every corner of Hanoi are Japanese brands.
Several landmark buildings, including the highest building in the city, were invested in by South Korea.
Japan is currently the top investor in Vietnam, accounting for half of its foreign direct investment in 2012, and currently overseeing 1,990 projects in the country, Vietnam Briefing reported.
China invested in 869 projects in Vietnam, worth more than $4.52 billion by the end of September 2012, ranking 14th of 96 foreign investors there, according to Vietnam's official statistics.
"Actually, Vietnam's economy and people's daily lives heavily rely on China, its largest trading partner, and a lot of things in this room, from toothpicks to tables, were imported from China," Nguyen Quang, who runs a trading company in Hanoi, told me at a restaurant.
Chinese motorcycles dominated Vietnam's market about two decades ago and some local people got rich selling them, but many have been replaced by brands from other countries because of quality concerns in the past, the Vietnamese businessman said.
Pham Thanh Hoa, a businesswoman in Hanoi, said such impressions about Chinese products are changing because China now has a growing capability in manufacturing world-class products.
"So many Chinese are successful around the world, and we can learn a lot from the Chinese," she said in Chinese, a language she learned two years ago because of her interest in the densely populated country.
Fan Wenyuan, an executive director of a Chinese trading company in Hanoi, said Vietnam is going through a similar process of reform and opening up as China, giving the Chinese pre-knowledge for doing business here.
The number of Chinese investors in Vietnam increased recently; however, after starting late in the race, they also tend to stumble in the face of the sometimes tense bilateral ties due to maritime frictions in the South China Sea.
Fan said he hoped Premier Li Keqiang's current visit to Vietnam would further boost bilateral economic ties and that he had always dreamed of being part of stronger cooperation between the two.
"It is common for two neighbors to have differences, but these should not overshadow the overall relations," he said.
Liu Zijing, a Chinese national who has worked in a high-tech company in Vietnam for years, said the country should be one of the top destinations for Chinese overseas business for its potential and possibly relaxed governmental regulations in the future, as well as the two sides' close cultural relationship.
"Most Vietnamese people have watched the Chinese TV series Journey to the West since their childhood, just as we Chinese did," said Liu. "My Vietnamese colleagues sometimes jokingly asked me which country is right over the maritime issue ... But we always keep good relations with each other."
Related
2013-10-14 00:56:04
2013-10-12 14:53:29
2013-10-13 17:07:37
2012-11-26 16:54:13
2012-11-23 13:42:55
2012-11-21 10:03:03
Oct 9-11: Attends East Asia Leaders' Meetings and Pay State Visit to Brunei

Oct 11-13: Visits Thailand

Oct 13-15: Visits Vietnam