Border traders watch Li's visit with close interest
Updated: 2013-10-14 23:30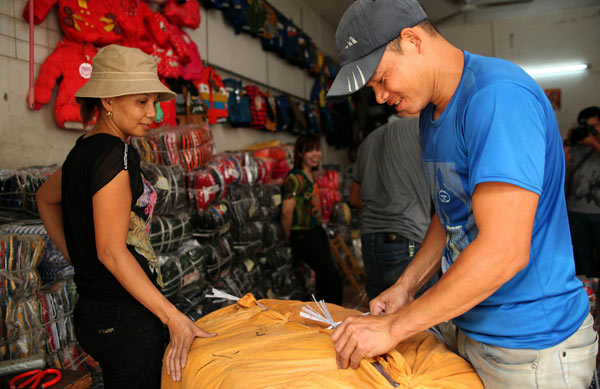 Businessmen from Hanoi buy large quantities of clothes from a wholesale store run by Chinese businessman Dai Mingqian from Zhejiang province, in the Nonghuai border trade market, on Monday in Pingxiang, the Guangxi Zhuang autonomous region. Huo Yan/China Daily
Hundreds of Chinese and Vietnamese businessmen in the border trade market of Nonghuai in Pingxiang in the Guangxi Zhuang autonomous region are avidly following news reports about Chinese Premier Li Keqiang's visit to Vietnam.
"I hope China and Vietnam can maintain stable and good relations. As bilateral ties sour, my trade drops remarkably", said Wu Daming, a 50-year-old businessman from Yiwu, Zhejiang province, who sells knitted goods to Vietnam in the border trade market.
Wu has traded in Pingxiang near the border for 21 years. He first sold toys to Vietnam but found toys made in China no longer had a price advantage after 2000. He then started selling thermal underwear, socks and stockings to his southern neighbors.
"Knitted goods made in China are good quality and lower in price compared with products made by foreign companies in Vietnam or goods from Thailand," Wu said. "But the Vietnamese people learn our technology very fast and I am afraid I will have to find new goods to sell to them soon."
There are more than 800 Chinese wholesale stores in the market, which is 1 kilometer from the border between China and Vietnam. Most of the store owners are from Zhejiang, Guangdong and Hunan provinces. Almost every store hires one to three Vietnamese as interpreters and sales assistants.
Wu's sales assistant Ar Fang is a 25-year-old Vietnamese woman from Lang Son, Vietnam. She said her fellow villagers introduced her to work in Pingxiang one month ago and she has adapted to the new environment very fast.
Fluent in Chinese, she said almost 30 percent of young Vietnamese living along the border can speak Mandarin. "In fact, our Vietnamese language shares so much in common with the language of the Zhuang people in China. There is no problem for us to talk with each other", she said with a shy smile.
Businessmen also hope the two nations can keep peace in the South China Sea as any war would mean disaster for the border trade.
Dai Mingqian, a Chinese businessman from Wenzhou, Zhejiang, who sells trousers in the market, said: "My Vietnamese friends always ask me if China will beat Vietnam over the South China Sea and island disputes. They are so worried and hope the two governments can solve problems through talks and create a peaceful environment for people and their businesses."
Dai said he often comforted his Vietnamese business partner about the Chinese government's constant focus on peace and common development.
"I am so happy to see Premier Li proposed to develop the Beibu Bay jointly with Vietnam and it is absolutely necessary for China to help Vietnam to connect the roads across the borders and build high-speed railways. It will save a lot of time for me to deliver my goods to Vietnam", Dai said.
Lin Binguo, a 25-year-old wholesaler of lamps from Jieyang, Guangdong province, was keenly reading news about the premier's visit to Vietnam.
Lin has been doing business in Pingxiang for four years. Fluent in the Vietnamese language, he does not employ interpreters like the elder Chinese businessmen but employs four Vietnamese workers to help with his business.
"I think Vietnamese people are very hardworking and clever. They are catching up with the manufacturing factories in Guangdong and Zhejiang fast. The only advantage of our factories is that our large production scale helps to lower our production costs."
He hopes the renminbi can be a common settlement currency across the Southeast Asia region and "the exchange rates should be stable and reflect the real value of our money", he added. "I hope the two countries can be good neighbors connected by better roads and railways, which will reduce the costs of my transportation fees."
Huo Yan and Lan Lin contributed to this story.
liyang@chinadaily.com.cn
Related
2013-10-14 00:56:04
2013-10-13 17:07:37
2013-10-12 14:53:29
2013-07-26 20:53:09
2013-06-21 14:58:13
Oct 9-11: Attends East Asia Leaders' Meetings and Pay State Visit to Brunei

Oct 11-13: Visits Thailand

Oct 13-15: Visits Vietnam