China-Vietnam relations witness substantial progress: Li
Updated: 2013-10-14 07:30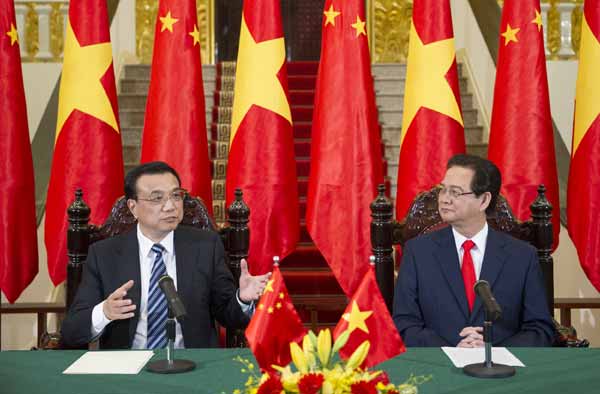 Visiting Chinese Premier Li Keqiang (L) and his Vietnamese counterpart Nguyen Tan Dung attend a joint press conference after their talks in Hanoi, Vietnam, Oct. 13, 2013. Li held talks with Nguyen Tan Dung in Hanoi on Sunday. [Photo/Xinhua]
HANOI - The relationship between China and Vietnam has made substantial progress, Chinese Premier Li Keqiang told a joint press conference with his Vietnamese counterpart, Nguyen Tan Dung, here on Sunday.
China and Vietnam have made a breakthrough in bilateral cooperation after pledging to set up in parallel three joint work groups to advance maritime, onshore and financial cooperation, Li said.
The Chinese premier also noted that he and Prime Minister Dung, in their talks held earlier, reached broad consensus and achieved fruitful results on deepening China-Vietnam cooperation in various areas.
The two sides agreed to continue to enhance political mutual trust, maintain high-level exchanges, maximize common interests and minimize divergences, and safeguard peace and stability of the South China Sea, he said.
In regards to maritime cooperation, Li called on the two sides to achieve substantial progress within the year in their joint development in waters out of the mouth of the Beibu Bay, a semi-enclosed sea whose delimitation remains under negotiation between China and Vietnam.
He also called on the two countries to study the possibilities of joint development of a wider area of the sea.
By doing so, China and Vietnam would demonstrate to the world that they have the capability and the wisdom to safeguard peace in the South China Sea, expand their common interests and reduce divergences, Li noted.
The two countries also agreed to cooperate practically in inter-connectivity and major infrastructure projects within the year, which would not only benefit the two peoples but facilitate bilateral investment and trade, he said.
Given lessons learned from the Asian financial crisis in the 1990s, both sides vowed to build a financial security network to fend off potential risks for their economic stability.
The Chinese premier said he and Dung believed common interests and consensus between the two countries far outweigh their disputes and difference.
"We are determined and able to push forward the sound, long-term development of China-Vietnam comprehensive strategic cooperative partnership," he said.
Li arrived here earlier in the day for the last leg of his first Southeast Asia tour as premier, which has taken him to Brunei and Thailand.
Related
2013-09-18 07:48:37
2013-09-18 07:48:37
2013-09-09 19:45:10
2013-10-14 06:51:14
2013-10-14 06:57:31
2013-10-14 00:44:06
Oct 9-11: Attends East Asia Leaders' Meetings and Pay State Visit to Brunei

Oct 11-13: Visits Thailand

Oct 13-15: Visits Vietnam