Chinese Muslims celebrate Corban Festival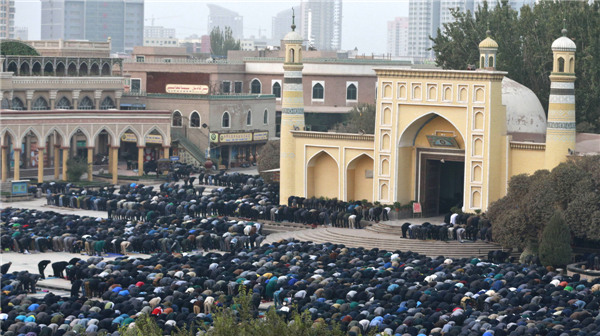 Muslims offer prayers before a mosque celebrating the Corban Festival in the city of Kashgar, Xinjiang Uygur autonomous region on Oct 15, 2013.[Photo by Feng Yongbin/Asianewsphoto]
YINCHUAN -- Millions of Muslims across China and the world celebrated the Corban Festival on Tuesday, also known as Eid al-Adha or day of sacrifice, when lambs and other animals are slaughtered.
Early on Tuesday morning, Muslims from Northwest China's Xinjiang Uygur autonomous region and Ningxia Hui autonomous region and other areas wore festive outfits and attended mosques.
Zhang Xueyi, a 65-year-old Muslim, went to a mosque in Yinchuan, capital of Ningxia, to join prayers, taking a sheep he bought on Monday to have the imam to slaughter it after the ceremony.
Corban Festival features family gatherings with lamb as the main dish.
"Although my four kids cannot all be together today, I will prepare lamb for them to celebrate the festival in their own homes," Zhang said.
The local governments of Ningxia and Xinjiang have extended the holiday and exempted vehicles with fewer than seven seats from expressway toll fares to allow Muslims more time to attend religious rituals and visit relatives.
Geng Yulan, who made pilgrimage to Mecca in 2006, said her family have made good use of the five day break. "Our children are usually trapped by work, but they can always make time to visit during the Corban Festival," Geng said.
In Minxian and Zhangxian counties of Gansu Province, which experienced an earthquake in July, 400 Muslim families prepared traditional delicacies and freshly butchered sheep despite the snow and cold weather.
China has more than 20 million Muslims. The religion is popular among people of about 10 ethnic groups including Uygur, Hui and Kazakh.

Editor's picks

Copyright 1995 - . All rights reserved. The content (including but not limited to text, photo, multimedia information, etc) published in this site belongs to China Daily Information Co (CDIC). Without written authorization from CDIC, such content shall not be republished or used in any form. Note: Browsers with 1024*768 or higher resolution are suggested for this site.
Registration Number: 130349