China to monitor smog impact on health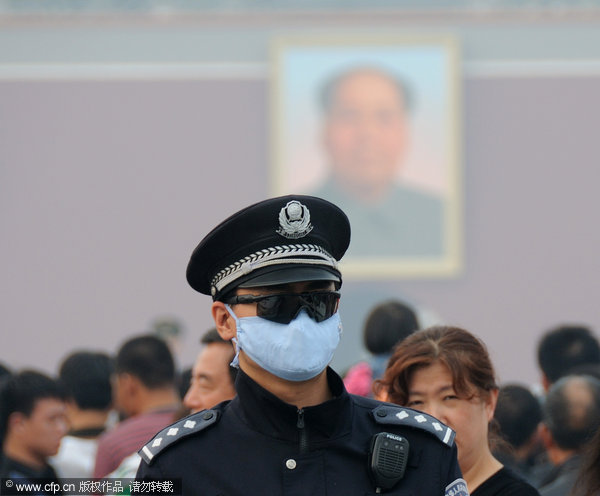 A policeman wearing a mask works on the Tiananmen Square in Beijing, Oct 5, 2013. [Photo/CFP] 
BEIJING - China will build a nation-wide network within three to five years to monitor the impact of air pollution on health, a latest step to deal with a persistent smog crisis in big cities, an official said.
A total of 43 monitoring spots will be set up in 16 provinces and municipalities frequently engulfed by smog so as to facilitate research on air pollutants in different regions, the impact on the health of vulnerable groups and the study of related diseases, said Xu Dongqun, an official with the Chinese Center for Disease Control and Prevention.
With funds allocated by the central government, the study will provide reference for preventive efforts to reduce the PM 2.5, Xu said.
Thick and hazardous smog have hit 17 provinces and municipalities with a population of 600 million this year. One of the major cities is Beijing, which has been shrouded in smog for several days during the ongoing seven-day national holiday.
China recently issued a 1.75 trillion-yuan (284.2 billion U.S. dollars) plan to tackle the worsening air, pledging to improve air quality within five years in order to decrease the number of heavily polluted days and improve the air in major city clusters.

Editor's picks

Copyright 1995 - . All rights reserved. The content (including but not limited to text, photo, multimedia information, etc) published in this site belongs to China Daily Information Co (CDIC). Without written authorization from CDIC, such content shall not be republished or used in any form. Note: Browsers with 1024*768 or higher resolution are suggested for this site.
Registration Number: 130349