Foul air rises over landfill expansion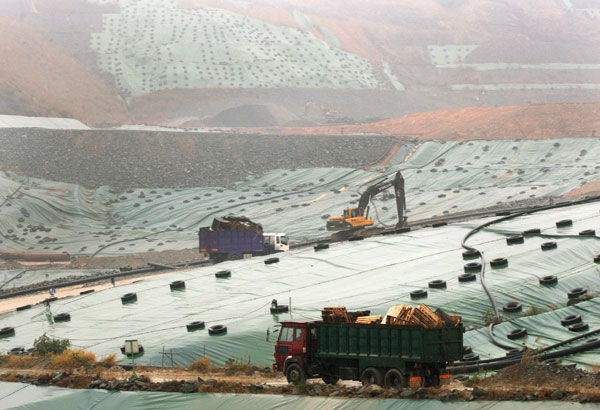 District officials on the mainland and in the SAR have raised objections to boosting the size of the landfills, which Hong Kong authorities proposed to fill the gap while an incinerator is built. Photo by Edmond Tang / China Daily
Residents say they bought homes 'for the view, not the smell', Lin Jing and Chen Hong report.
For the people living along Shenzhen Bay, life has become a nightmare.
"It stinks so much," complained Yang Li, who moved to Shekou, in Shenzhen's Nanshan district, in 2007. "It seems even worse this year."
Her home overlooks the bay, which forms a natural border between the Chinese mainland and Hong Kong. Just 5 kilometers across the water, however, is the large and controversial Tuen Mun landfill.
"We get the rotten smell floating over three to four times a week, whether it's windy or not. It's so bad in the mornings we can't open the windows," Yang said. "We bought the house here for the view, not the smell."
Another woman in her neighborhood described the recurrent odor as "unbearable" and "worse than human feces".
Residents fear worse could come if authorities in the Hong Kong Special Administrative Region go ahead with plans to expand the Tuen Mun landfill, and they are desperately calling for their discomfort to be taken into consideration during the decision-making process.
Shenzhen Bay, known in Hong Kong as Hau Hoi Wan, is mostly enclosed by hills and high-rises. On the shore directly opposite Nanshan is a green expanse that, from afar, looks like a large garden under construction.
"We thought it was a scenic spot when we arrived," Yang said, describing the landfill, which is largely covered by green plastic material. "But then the area got bigger and bigger, and the smell got worse."
Tuen Mun landfill, opened in 1993, is one of only three still operated by Hong Kong, the others being at Tseung Kwan O and Ta Kwu Ling. Together the sites have a total capacity of 140 million cubic meters.
Authorities closed 13 landfill sites between 1988 and 1996, converting the land into public gardens and parks and other facilities.
With land scarce and costly, however, solutions for how to handle the increasing amount of trash being produced by this densely populated city have been hard to find. Hence, this year the Hong Kong government said funds had been allocated to expand the landfills at Tuen Mun and Ta Kwu Ling.
The news triggered widespread opposition from residents and district officials on both sides of Shenzhen Bay. Hong Kong media reported more than 50 people took part in an "overnight hunger strike" outside the city's Legislative Council building on July 12 to demand the withdrawal of the funding request.
Authorities soon decided to suspend the plan to allow for further discussion.
Risky business
According to the Hong Kong Environmental Protection Department, an environmental impact assessment for the expansion plan was carried out and approved by the Legislative Council in 2009.
The report covered air quality, health risks and ecology, and concluded that, with "mitigation measures", the potential impact from the construction and operation of the project would be "acceptable and controlled to within the established standards and guidelines", the authority said in a statement.
"We consider it (the expansion at Tuen Mun) would not cause any adverse impact on Nanshan district, which is ... separated (from Hong Kong) by the open and windy bay."
Residents in the Shenzhen suburbs disagree, and argue that their interests are being ignored.
The landfill is a "timebomb" that could result in mud flows, explosions and water pollution, according to Ao Jiannan, who runs the Environment Protection Unit, which is affiliated to the Nanshan district government.
"No one wants to see and smell waste when they open their windows every day," he said. "The Hong Kong government should at least have had to inform us first before they made the proposal to expand the landfill."
He said the placement of the Tuen Mun landfill and a nearby waste treatment facility are both wrong, as they are too close to residential communities.
"Originally Tuen Mun was a rural area, but Nanshan is developing across the river very fast, with a growing population and more buildings. Any expansion of the landfill will jeopardize future development," he warned.

Editor's picks

Copyright 1995 - . All rights reserved. The content (including but not limited to text, photo, multimedia information, etc) published in this site belongs to China Daily Information Co (CDIC). Without written authorization from CDIC, such content shall not be republished or used in any form. Note: Browsers with 1024*768 or higher resolution are suggested for this site.
Registration Number: 130349