Nuclear plants see powerful growth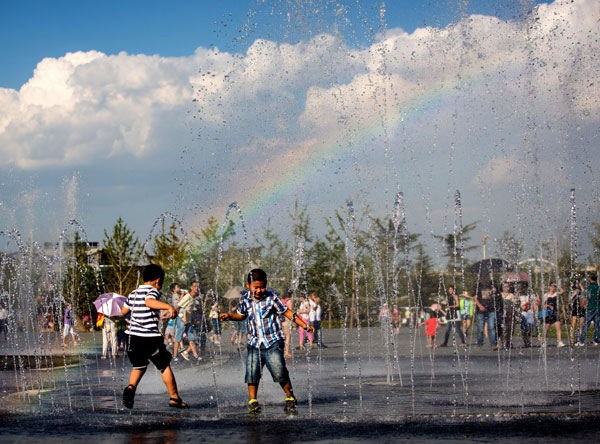 Children play by the fountains at the ninth China International Garden Expo in Beijing in August. The city has been hit by severe smog since early this year. The environmental cost of nuclear power plants is much lower than that of coal-fired plants, according to an academic. Mao Yanzheng / China Daily


China is strengthening its efforts in developing clean energy, but obstacles remain, as Wu Wencong reports from Lianyungang, Jiangsu province.
When it comes to finding the solution to China's air pollution problem, experts and environmental officials are unanimous in saying nuclear power is the way to go.
But although a series of impressive figures have been put forward to advance the nuclear cause, public misgivings remain.
China's nuclear power industry is growing at the fastest pace in the world, accounting for 14 percent of the nuclear power generated globally every year. Of the 64 nuclear power plants being built worldwide, 29 are in China.
The country's demand for nuclear plants will reach 200, with four to six new ones being approved annually before 2015, said Jian Jingwen, deputy head of the equipment department at the State Nuclear Power Technology Corporation.
That number will reach 10 plants every year after 2020, Jian said.
The nation's nuclear power generation capacity will rise from 10.7 gigawatts in 2010 to 160 gigawatts in 2040. China will also account for more than 40 percent of the global net increase in nuclear capacity between 2010 and 2040, according to International Energy Outlook 2013, released by the US Energy Information Administration.
By 2017, the installed capacity of the nation's nuclear power plants will be increased to 50 million kW, enabling the proportion of non-fossil energy to meet the target of 13 percent, up from the 2010 level of 8.6 percent.
Insiders say nuclear power may be the only solution to meeting the 13 percent target, with both wind and solar power facing obstacles such as difficulties in storing the power and transmitting it to other regions.
Several considerations affect the country's development of nuclear power, including safety during operation, waste disposal and the newly added factor of public opinion, says Zhao Yongkang, deputy director of the Nuclear Safety Management Department at the Environmental Protection Ministry.
Chen Xiaoqiu, deputy chief engineer of the ministry's Nuclear and Radiation Safety Center, says the technology used for newly built nuclear power stations in China is at the most advanced level in the world.
"The core-damage frequency (a term used in probabilistic risk assessment indicating the likelihood of an accident that could damage a nuclear reactor core) of the newly constructed units should be less than 1x10-5, meaning that one core damage incident is likely to take place in no less than 100,000 reactor years," Chen said.
"The large release frequency, indicating the likelihood of an accident causing a massive discharge of radioactive materials into the environment, is less than 1x10-6 per reactor year, meaning one large release incident is likely to occur in at least 1 million reactor years."
The collective amount of radiation caused by the coal fuel chain is 50 times that caused by the nuclear fuel chain, according to research by Pan Ziqiang, an academic at the Chinese Academy of Engineering and an expert on nuclear radiation prevention and control.
But this series of statistics has failed to end public doubts over the use of nuclear energy.

Editor's picks

Copyright 1995 - . All rights reserved. The content (including but not limited to text, photo, multimedia information, etc) published in this site belongs to China Daily Information Co (CDIC). Without written authorization from CDIC, such content shall not be republished or used in any form. Note: Browsers with 1024*768 or higher resolution are suggested for this site.
Registration Number: 130349