China, Mongolia News Forum to promote Internet cooperation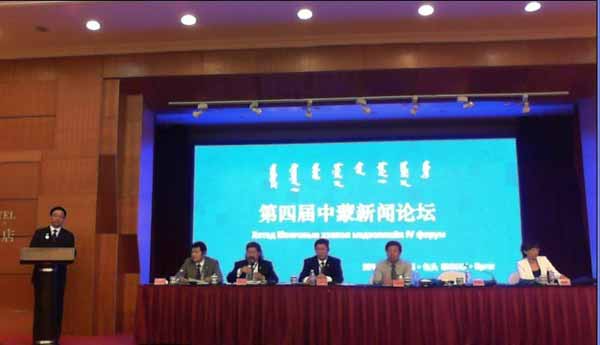 Bai Yugang, director of Inner Mongolia Information Office, makes a speech on the 4th China, Mongolia News Forum in Baotou Sept 23,2013. [Photo/chinadaily.com.cn]
The 2013 China, Mongolia News Forum opened here on Monday to develop a mutual understanding and Internet cooperation among media institutions between the two nations.
Co-launched by Inner Mongolia Information Office and Mongolia Journalists Association, the forth forum is themed with opportunities and challenges in the Internet era. It attracts over 100 guests from governments, academia, institutions, and media groups from both sides.
Bai Yugang, director of Inner Mongolia Information Office, addressed that the relationship between both countries has blossomed in recent years, and there are big cooperation potentials on mineral resources development, infrastructure construction, border trade and financial sector. The frequent exchanges between media institutions deepen understanding and provide support for cooperation in other fields.
Bai added that Internet has become an important way to promote international communication and media cooperation, and it needs more broad vision and thinking. Inner Mongolia and Mongolia share a common language and traditions, so we should respect mutually, share information, and spread more positive stories and cultural heritage, he said.
Zayabat, deputy chairman of Mongolia Journalists Association, said news media plays an very important role to enhance understanding and keep friendly relations between the two nations. The forum has become a bridge to strengthen cooperation between media institutions of two sides.
Furthermore, the speakers from Mongolia Network Alliance, China Network Television, Inner Mongolia Daily and Inner Mongolia Normal University made a speech at the forum.
The forum, launched in 2010, is annually held alternately in Mongolia and Inner Mongolia.

Editor's picks

Copyright 1995 - . All rights reserved. The content (including but not limited to text, photo, multimedia information, etc) published in this site belongs to China Daily Information Co (CDIC). Without written authorization from CDIC, such content shall not be republished or used in any form. Note: Browsers with 1024*768 or higher resolution are suggested for this site.
Registration Number: 130349