Verdict of Bo Xilai: Life in prison
Bo sentenced for bribery, embezzlement and abuse of power
Former Chongqing Party chief Bo Xilai was sentenced to life in prison for bribery, embezzlement and abuse of power by a court in Jinan, Shandong province, on Sunday.
Bo was deprived of political rights for life, with all of his private assets confiscated, under the verdict issued by Wang Xuguang, chief judge of Jinan Intermediate People's Court.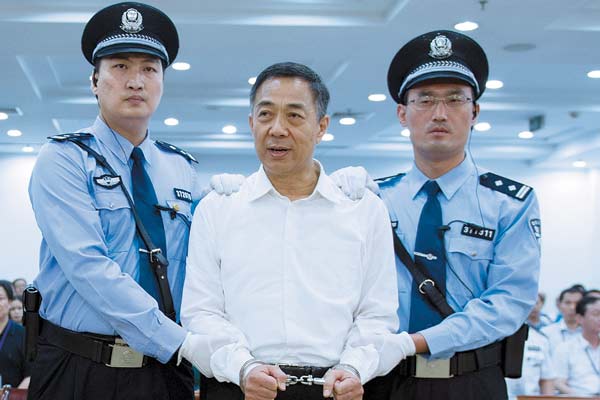 Former Chongqing Party chief Bo Xilai is sentenced to life in prison at a court in Jinan, Shandong province, on Sunday.[Xie Huanchi / Xinhua]
Bo, 64, also a former member of the political bureau of the Communist Party of China's Central Committee, did not appeal the sentence on Sunday, but he has the right to do so within 10 days.
"What Bo did has caused great losses to the interests of the country and people, and the circumstances were especially serious," Wang said as he read the verdict in court.
Bo stood trial from Aug 22 to 26.
The verdict said Bo took bribes of 20.44 million yuan ($3.34 million) either personally or through his wife Bogu Kailai and their son Bo Guagua from 1999 to 2012, when he was mayor and Party chief of Dalian, governor of Liaoning province and minister of commerce.
In return, Bo helped Tang Xiaolin, general manager of Dalian International Development Co Ltd, take over the Dalian city liaison office in Shenzhen and also helped Tang obtain quota licenses for importing cars. In return, Tang gave Bo 1.1 million yuan, the court said.
According to the court's investigation, Bo granted favors to Xu Ming, chairman of Dalian Shide Group, for a sightseeing hot-air balloon project and its bid for a petrochemical project. He was aware that his wife and son accepted money and properties worth 19.33 million yuan from Xu, the court said.
Bo was also found to have embezzled 5 million yuan in a government project in 2002. The money was transferred to a bank account designated by his wife, of which Bo was aware, according to the court verdict.
The court found that Bo abused his power when the police were probing a murder case, in which his wife killed British citizen Neil Heywood in November 2011. Bo also abused power by removing Wang Lijun from his post as police chief of Chongqing, which led to Wang fleeing to the US consulate in Chengdu last year.
The court said there was a lack of evidence for one of the allegations, in which prosecutors accused Bo's family members of asking Xu Ming, chairman of Dalian Shide Group, to reimburse air tickets and other costs totaling 1.34 million yuan with Bo's consent.
All other accusations were endorsed by the court.
Bo denied all the charges during the trial last month, but the court said the evidence was solid and Bo had admitted some of it during interrogations.
Although Bo said during the trial that he admitted some of the accusations because he was "under great mental pressure", the court said the pressure does not count as illegal under the rules of forced confession.
Liu Yanjie, spokesman for the court, said the verdict was based on the facts of Bo's criminal activities and the harm that he has done to society.
"The court has taken careful consideration of the opinions of both the prosecutors and Bo, and the evidence raised by both parties has been thoroughly investigated," Liu said at a news conference after the verdict was announced.
The full version of the verdict has been released on the court's micro blog.
The verdict was heard by 116 people, including three of Bo's relatives and 22 journalists, according to the court's micro blog.
Mo Yuchuan, a law professor at Renmin University of China, said the public trial of Bo, one of the highest-ranking officials tried in about three decades, has made clear the top leadership's resolve to fight corruption.
"The verdict came as the Party is gearing up for the upcoming Central Committee meeting in November. It is a sign that the leadership's unwavering determination to fight corruption will be continued," he said.
Contact the writers at anbaijie@chinadaily.com.cn and zhaoyinan@chinadaily.com.cn

Editor's picks

Copyright 1995 - . All rights reserved. The content (including but not limited to text, photo, multimedia information, etc) published in this site belongs to China Daily Information Co (CDIC). Without written authorization from CDIC, such content shall not be republished or used in any form. Note: Browsers with 1024*768 or higher resolution are suggested for this site.
Registration Number: 130349