PATA Travel Mart successfully ends in Chengdu
The 2013 PATA Travel Mart (PTM) successfully came to an end in Chengdu on September 17.
The travel mart is one of the top trade fairs in the Asia Pacific region, connecting a large number of international sellers and buyers and while providing a platform to showcase travel products and services throughout the Asia Pacific region.
More than 1,000 sellers and buyers from nearly 60 countries and regions around the world participated in this year's travel mart.
Joao Manuel Costa Antunes, chairman of Pacific Asia Travel Association (PATA), believes the 2013 PTM is a splendid travel fair.
He was excited to bring the 36th PTM to Chengdu as the city is one of the fastest growing markets for inbound tourism and is quickly becoming a new connection hub in Asia.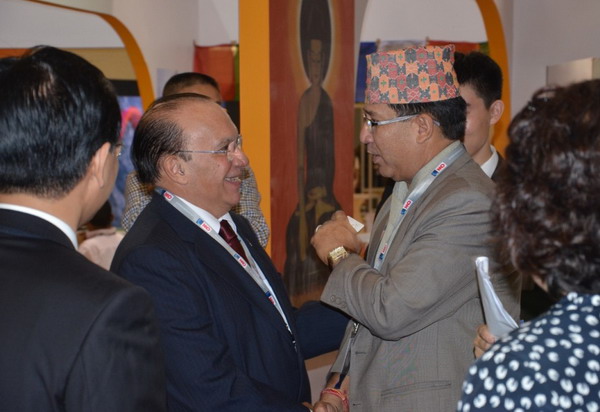 Joao Manuel Costa Antunes, chairman of PATA speaks with a delegate during the travel mart.
Fruitful results
The two-day event saw 563 seller organizations from 31 countries and regions, and 473 buyers from 49 countries and destinations to take part in one-on-one trade negotiations during seller-buyer sessions. As the host city, Chengdu provided a series of recommended tourist routes during the sessions, which attracted 120 international buyers to meet with Chengdu vendors in person. The successful match rate of sellers and buyers reached approximately 85%, according to rough estimates. During the travel mart, the Chengdu Culture & Tourism Development Group signed agreements with the world's largest tourism website Tripadvisor, and the well-known domestic tourism website Ctrip, and the global payments technology company VISA. With the help of Tripadvisor and Ctrip as well as VISA, the group will start network marketing among Chengdu's direct-fly cities.
The Fly Chengdu Marketing Alliance was also set up during the event, co-initiated by the Pacific Asia Travel Association (PATA), the Chengdu Tourism Administration, the Chengdu Culture & Tourism Development Group and the Chengdu Shuangliu International Airport. The alliance aims to boost cooperation among Chengdu's direct-fly cities in sectors such as international travel, city brand promotion and cultural exchanges.
Meanwhile, during a panel workshop delegates offered ideas and shared their experience on how to improve service quality in Chengdu as the city strives to be an international tourist destination..
John Koldowski, special advisor to the PATA CEO, said it is important to provide professional training and improve the English skills of those who work in the tourism industry.
Kris Van Goethem, managing director of Kuoni Destination Management (Beijing) said service quality is the most important tourism factor, while competitive pricing of travel products also has the ability to attract customers.
David Chen from the Google travel team suggested that Chengdu add cultural and cuisine elements to attract overseas customers.
"According to our recent questionnaire investigation covering 1,000 overseas tourists, special elements such as Pandas and Sichuan cuisine are the most popular elements for them," said David Chen.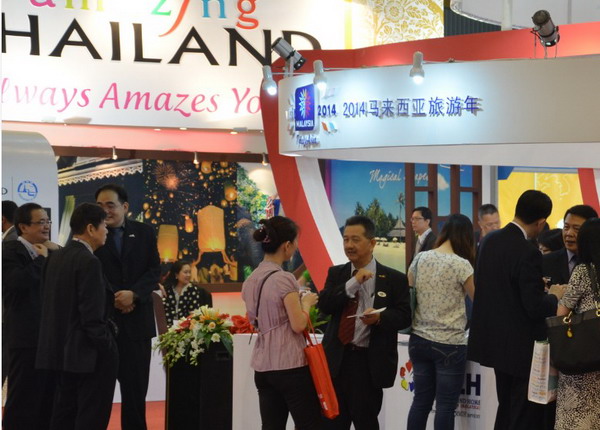 Over 1000 sellers and buyers from nearly 60 countries has participated in the travel mart.
Inbound travel boost
Latest data shows that inbound tourism in Chengdu increased 6.9 percent in the first half of this year, despite a decrease of 4.2 percent in the whole country.
Chengdu attracted 80 million foreign tourists in 2010 and 121 million in 2011. Last year, the number of inbound tourists increased to 158 million generating tourism income of 107 billion yuan ($17.4 billion), accounting for 8.4 percent of the city's GDP, according to its deputy mayor.
Chengdu is the fourth city in the Chinese mainland to adopt the 72-hour visa-free policy, after Beijing, Shanghai and Guangzhou.
The policy allows transit passengers from 45 countries who have valid visas and a flight ticket to a third country to stay up to 72 hours in Chengdu, as well as cities and counties under its administration.
"Chengdu has extremely rich tourism resources, and most scenic spots can be reached within 2 hours," said Porte du Theil, CEO of Interface Tourism Group, a French company. "With the 72-hour visa free policy, Chengdu's tourism market has large potential." He said.
Chengdu will transform and upgrade the international promotion of its culture and tourism," said one director from the Chengdu Culture & Tourism Development group. Instead of the city's image and tourism products, the city will focus on the promotion of its unique culture and attractive lifestyle.
The inland city has become the fourth largest aviation hub in China. So far, there are 23 direct flights between Chengdu and other countries, including Tokyo, Melbourne, Frankfurt, and Doha to name a few.
A new non-stop flight between Chengdu and London is to open on September 23, and new flights to San Francisco, New York, Moscow and Africa are also in the works, according to one official.
"Chengdu is quickly becoming a new connectivity hub in Asia. With so many new international flights directly connecting Chengdu to Asia and beyond," said Antunes. "Chengdu is fully prepared for the development of tourism," said Fu Yonglin, deputy mayor of Chengdu.
After taking the opportunity to host the 2013 PTM, Chengdu is now actively promoting its image to the whole world, and accelerating its internationalization of the tourism industry.

Editor's picks

Copyright 1995 - . All rights reserved. The content (including but not limited to text, photo, multimedia information, etc) published in this site belongs to China Daily Information Co (CDIC). Without written authorization from CDIC, such content shall not be republished or used in any form. Note: Browsers with 1024*768 or higher resolution are suggested for this site.
Registration Number: 130349