China to play 'constructive' role on Syria: FM
WASHINGTON - Chinese Foreign Minister Wang Yi pledged Thursday that China will play "a positive and constructive role" at the United Nations in helping resolve the crisis over Syria's chemical weapons.
Speaking to reporters after his talks with US Secretary of State John Kerry, Wang said they had "in-depth" exchange of views on the Syrian issue. He expressed the hope that the ongoing talks in the Organization for the Prohibition of Chemical Weapons (OPCW) will soon yield results, by reaching an agreement on starting the process of verifying and destroying Syria's stockpile of chemical weapons.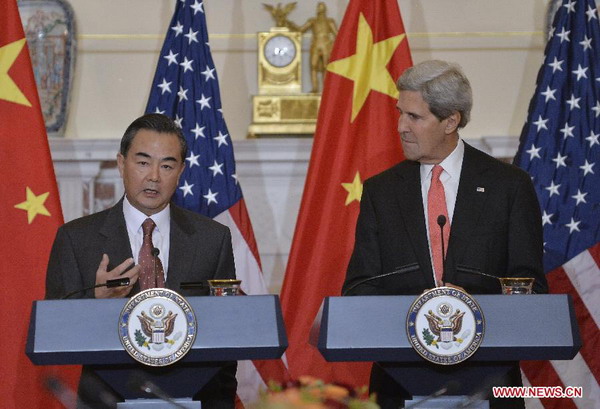 Visiting Chinese Foreign Minister Wang Yi (L) and US Secretary of State John Kerry attend a joint press briefing prior to their bilateral talks at the State Department in Washington DC, capital of the United States, Sept 19, 2013. [Photo/Xinhua]
"The UN Security Council should politically recognize and support such agreement. It should be united, instead of being divided, and speak with one voice. China is willing to play a positive and constructive role," Wang said.
In his opening remarks before the talks with Kerry, Wang said China welcomes the framework agreement reached not long ago by the United States and Russia on ridding Syria of its chemical weapons.
"Ultimately, the issue of Syria needs to be resolved through political means. The Chinese side will continue to play a positive and constructive role in that direction," the Chinese diplomat said.
Kerry, in his opening remarks, said the US appreciates China' s support for a political solution to the Syrian crisis, which Washington believes is "ultimately available and possible."
While acknowledging the sharp disagreement between the two countries over the international response to Syria's alleged use of chemical weapons, Kerry said the US looks forward to China " playing a positive, constructive, important role."
Wang and Kerry also held "useful" and "detailed" discussions on relaunching the stalled six-party talks on the denuclearization of the Korean Peninsula.
Earlier in his opening remarks, Wang said "it is an important time for the six parties to review the past, summarize the good experiences, and open up brighter prospects for the future."
The two officials also discussed the implementation of the important consensus reached by Chinese President Xi Jinping and his US counterpart Barack Obama at the June summit held at the Sunnylands estate in California, on seeking to build a new model of major country relationship based on mutual respect, mutual benefit and win-win cooperation.
Kerry said the US welcomes the continued peaceful rise of China, and a stronger partnership with China is a part of the US commitment to rebalance its interests and investments in Asia.
As the new model of China-US relationship is based on practical cooperation and constructive management of differences, the US and China recognize the need "to avoid falling into a trap, of seeing one another as strategic rivals," Kerry noted.
Wang said China looks forward to working with the US to ensure that they will translate the defining feature of this new model of relationship, namely non-conflict, non-confrontation, mutual respect and win-win cooperation, into all aspects of China- US relationship to bring benefits to both countries and beyond.
It is "my belief that there is tremendous potential for us working together to further expand and deepen our cooperation," Wang stressed.
Wang told reporters after the talks that one of the major goals of his visit is "sending out a signal that the two countries are willing to advance the new model of major country relationship through concrete actions and practical cooperation."
During the talks at the State Department, the two sides also touched upon a number of other issues, including the US arms sales to Taiwan, maritime security, cyber security, and intellectual property protection.
Wang is also expected to hold talks with US Vice President Joe Biden, National Security Advisor Susan Rice, Defense Secretary Chuck Hagel and some congressional leaders, during his two-day stay in Washington. He will then travel to New York to attend the 68th session of the UN General Assembly.

Editor's picks

Copyright 1995 - . All rights reserved. The content (including but not limited to text, photo, multimedia information, etc) published in this site belongs to China Daily Information Co (CDIC). Without written authorization from CDIC, such content shall not be republished or used in any form. Note: Browsers with 1024*768 or higher resolution are suggested for this site.
Registration Number: 130349