21 dead after SW China road accident
CHENGDU - The death toll from a road accident on Sunday in Southwest China's Sichuan province has hit 21, local authorities said on Monday.
The accident occurred at 2 pm in Zhenwu village in Quxian county, Dazhou city, when a passenger bus collided with a heavy-duty truck loaded with sand and cobblestones. The bus plunged into a three-meter-deep riverbed, the Quxian county's publicity department said in a statement.
The bus -- which had 24 people on board, including 12 students -- was then buried by sand and cobblestones from the overturned truck.
Of the 25 people including the truck driver, 16 were killed at the scene, and another five people died after failed medical treatment, the statement said.
The cause of the accident is under investigation.
Related reading:
16 dead in SW China road accident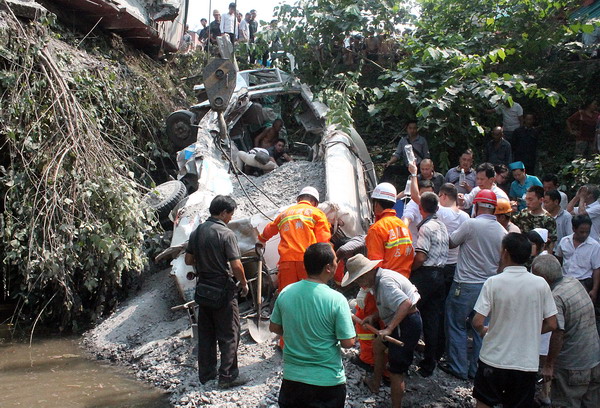 Firefighters search for survivors at a road accident site in Zhenwu village, Dazhou city of Sichuan province, September 15. [Xu Taiyuan/Asianewsphoto] 

Editor's picks

Copyright 1995 - . All rights reserved. The content (including but not limited to text, photo, multimedia information, etc) published in this site belongs to China Daily Information Co (CDIC). Without written authorization from CDIC, such content shall not be republished or used in any form. Note: Browsers with 1024*768 or higher resolution are suggested for this site.
Registration Number: 130349