Passengers held in Jeju start to return to China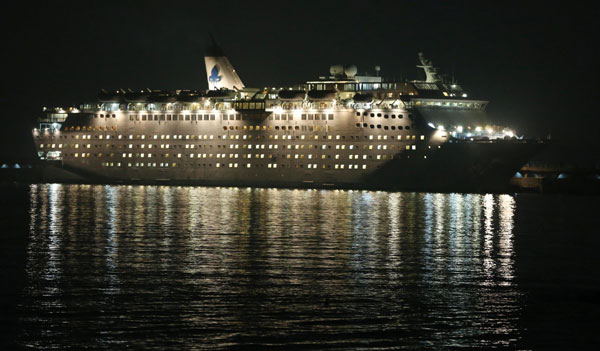 The detained Chinese cruise, the Henna, is anchored at a coast off Jeju Island in the Republic of Korea, on Sept 14, 2013. [Photo/Xinhua]
SEOUL - The first batch of around 280 passengers on the detained cruise Henna in Jeju Island has departed from Jeju for China by plane at 3:20 pm local time on Sunday, according to the Chinese Consulate General in Jeju Island.
HNA Tourism, the Beijing-based operator of the Henna, has sent four planes to take more than 800 detained passengers back to China on Sunday, said Sun Limin, an official of the Chinese Consulate General in Jeju Island.
Sun said the other three planes have already arrived at the Airport of Jeju Island and will depart later in the afternoon. The rest of the passengers will go back to China or continue their tour in South Korea as their own wish in the following days.
Meanwhile, the Chinese Consulate General in Jeju Island and HNA Cruise are negotiating with the South Korean side for an earliest possible departure of Henna. The detained ship is expected to leave as early as Monday after finishing all the departure procedures, according to an official.
The cruise has opened up entertainment venues for free, and offered 24-hour catering service. Some of the passengers who still prefer to take the cruise will stay on board until its departure, the consulate said.
The consulate added that all the passengers can get certain compensation after returning to China. The company said in an online statement that it is making plans to compensate passengers appropriately for their losses.
The cruise Henna, with 1,659 passengers and a crew of 650 on board, was scheduled to sail at 4:00 pm local time Friday from Jeju to Incheon. It was detained before departure by a Jeju court which received a seizure application on claims of legal disputes from a subsidiary company of Jiangsu Shagang Group Co, the cruise operator said on Saturday.

Editor's picks

Copyright 1995 - . All rights reserved. The content (including but not limited to text, photo, multimedia information, etc) published in this site belongs to China Daily Information Co (CDIC). Without written authorization from CDIC, such content shall not be republished or used in any form. Note: Browsers with 1024*768 or higher resolution are suggested for this site.
Registration Number: 130349