Bucket blast kills 2, injures 44
Police unsure whether fatal explosion was an accident
A massive explosion about 10 meters from a major county school in Lingchuan, the Guangxi Zhuang autonomous region, killed two people and seriously injured at least 44 on Monday morning.
The explosion occurred at 7:10 am, just as parents were dropping their children off at Balijie School, located on a busy street in Lingchuan and about 8 kilometers from Guilin.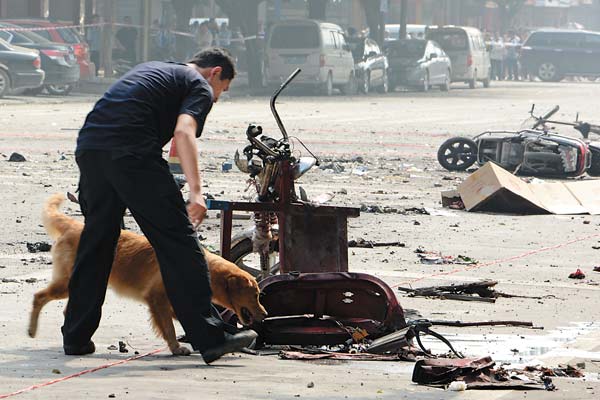 Fatal blast: A sniffer dog works at the scene of an explosion, which killed two people and injured at least 44 near a school on Monday in Guilin, Guangxi Zhuang autonomous region. [MENG XIAN / FOR CHINA DAILY]
The school employs 140 teachers and has 3,100 students from grades 1 to 9. Zhu Ge, a teacher at the school, said that most of the students were children of migrant workers.
Tang Xiaoling, the spokeswoman for the Lingchuan government, said a security camera almost directly above the school's front gate has footage of a driver on a motor tricycle carrying a metal bucket immediately before the explosion.
The blast instantly killed the driver, but Tang said police are still investigating and have not listed the unidentified driver as a suspect.
She added that the local government is not sure if the explosion was a deliberate act of violence.
A 25-year-old woman crossing the street from the blast also died after being sent to a hospital. She was a teacher in a kindergarten near Balijie School.
Nearly 100 injured students and parents are being treated in hospitals. Forty-four of them were severely wounded and have been transferred to hospitals in Guilin.
The blast knocked out all of the windows of the school and of nearby hotels, shops and residential buildings within 100 meters. All that remained of the motor tricycle were the handlebar and several pieces of distorted metal sheeting about 30 meters from the blast point. The six-lane street in front of the school was black with a mixture of ash and blood.
Police found the metal bucket between the charred remains of an electric bicycle and a motorcycle about 10 meters from the explosion. It contained highly combustible material as well as gravel and pieces of iron, according to an inspector from the Guangxi public security department, who declined to give his name.
Ma Hongying, the owner of a grocery store next to the school, said she was cooking breakfast at her shop for about nine primary school students standing outdoors with their backs facing the street when the bomb went off.
"It sounded like thunder and the whole building was shaking. The windows broke into pieces and fell from the upper floors. Nobody knew what happened. The street was immediately filled with dust, black smoke and howls of children and adults," she said.
Though the falling glass cut her left arm and right foot, Ma said she brought the children into her shop to treat their wounds.
"The street was total chaos for 10 minutes. About nine ambulances rushed to the site at about 7:20 am," said Qin Mulin, a waitress at a nearby restaurant. "The explosion happened two seconds after I came into the restaurant."
Qin said if the bomb had exploded about 10 minutes later, during the school's morning rush, the "results would be unimaginable".
"The murderer is no less cruel because he created such a disturbing and catastrophic scene for the students and parents who came to the school in large numbers even after the bomb exploded until police sealed off the area at 8 am," Qin said. "I saw many children coming later and crying after seeing what happened."
Qin Chuanhong, the school's headmaster, said: "All teachers are mobilized to go to the students' homes to comfort the children and help them to overcome the nightmare. It is a terrible day in the history of our school."
At a nearby hospital, a 14-year-old boy surnamed Liu was being treated by Dr Zhan Junjie after the blast embedded dozens of burning metal and glass pieces in his body. Liu was about 50 meters away when the bucket exploded but said he managed to carry one of his badly injured classmates to a hospital. Liu's classmate was later transferred to a hospital in Guilin.
"I hope he is fine," Liu said in pain while Zhan sterilized his wounds and removed the metal and glass pieces from his body.
Zhan said the hospital had received 19 injured in the blast, mostly children.
Bao Yuhua, who was walking with her daughter to the school, suffered serious burns to 90 percent of her body. Her sister Bao Guiping said she was about 500 meters from the school gate when she heard the explosion.
"I arrived in the scene at 7:20 am and saw five people on fire. I recognized my sister, who was struggling on the street. I helped to put out the fire on her body and carried her to the ambulance. She asked me to make sure her daughter was fine."
Bao Yuhua was being treated at No 181 Hospital in Guilin on Monday night. She and three other adults and one child were among the first to be sent to a hospital in Guilin.
During the blast, many turned to protect their loved ones. Liu Hesheng, a 76-year-old retiree, was sending his two grandsons to the school on his tricycle when the explosion occurred.
"I was 80 meters from the explosion. When I realized it was a blast, my first reaction was to turn back and cover the two children with my body."
His 9-year-old grandson Liu Jinhua said that his grandpa's left knee was badly cut in the explosion. With the help of his 7-year-old brother, Liu Jinhua said they managed to carry their grandpa back into the tricycle and push him to a nearby hospital.
Li Ziyu and Lan Lin contributed to this story.
Contact the writer at liyang@chinadaily.com.cn

Editor's picks

Copyright 1995 - . All rights reserved. The content (including but not limited to text, photo, multimedia information, etc) published in this site belongs to China Daily Information Co (CDIC). Without written authorization from CDIC, such content shall not be republished or used in any form. Note: Browsers with 1024*768 or higher resolution are suggested for this site.
Registration Number: 130349