Plan to change Teacher's Day stirs debate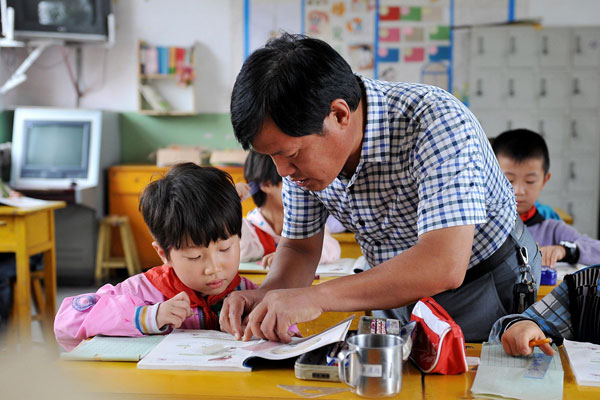 Rural teacher Fan Meisuo helps a girl with her study in Changning town, North China's Shanxi province, Sept 4, 2013.  [Photo/Xinhua]
JINAN - Debates have sprung up across China over plans to move Teachers' Day, which currently falls on Sept 10, to Sept 28, believed to be the birthday of Confucius.
The idea was made public Thursday when the Legislative Affairs Office of the State Council, China's Cabinet, released a draft amendment on a package of education laws in order to canvass public opinion.
Confucius, whose philosophy emphasizes personal and governmental morality, correctness of social relationships, justice and sincerity, has been a philosophical and ideological icon throughout Chinese history, but his role was played down during the "cultural revolution" (1966-76).
The Teachers' Day change is considered a landmark of Confucianism's revival.
In Qufu city in East China's Shandong province, where Confucius was born 2,564 years ago, hundreds of thousands of the philosopher's descendants are excited by the news.
"It is an acknowledgement of Confucius's status as China's earliest educationist," said Kong Lingshao, a 76th generation grandson of Confucius.
"Choosing Confucius's birthday as Teachers' Day reflects the return of Chinese traditional culture," said Kong, a civil servant who has been a Chinese language teacher for seven years.
Confucius was criticized during a certain period of time, but our country has rationally realized his value to the Chinese nation, he said.
Confucius, who started China's private education system, has been regarded by Chinese for millennia as "best teacher in ancient time" and "model teacher for generations."
Yang Mingchao, head of the China Confucius Research Institute, proposed setting up a "Teachers' Respect Day" along with three other Confucianism experts in 2010 at the Third Confucius World Congress.
"It has been a universal agreement among Confucianism experts around the world to set up a teachers' respect day," said Yang.
Confucius's principles have a basis in common Chinese tradition and belief. He championed strong family loyalty, ancestor worship and respect for the elderly by children. Confucius espoused the well-known principle, "Do not do to others what you would not want done to yourself."
In Taiwan, September 28 has been set as Teachers' Day for decades in commemoration of Confucius.
Since 1985, Teachers' Day has been designated as September 10, only a few days after the school year begins. It is an important day in China, where high value has traditionally been put on education and where teachers are widely respected.
For some years, experts and legislators have been promising to change the date of Teachers' Day. Li Hanqiu, a scholar in traditional Chinese culture, suggested in 2004 that Teachers' Day should have historical and cultural associations and should fall on the birthday of Confucius.
Although many applauded the change, some are still skeptical of the possible effects.

Editor's picks

Copyright 1995 - . All rights reserved. The content (including but not limited to text, photo, multimedia information, etc) published in this site belongs to China Daily Information Co (CDIC). Without written authorization from CDIC, such content shall not be republished or used in any form. Note: Browsers with 1024*768 or higher resolution are suggested for this site.
Registration Number: 130349