Panda gives birth to triplets, one survives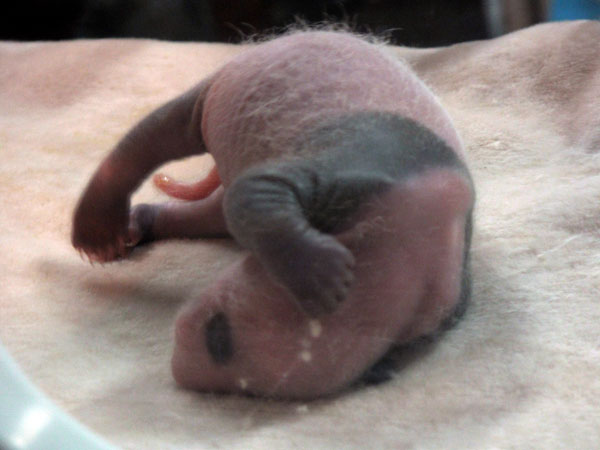 The only survived panda cub born by Jiaozi sleeps at the Chengdu Research Base of Giant Panda Breeding, Sept 5, 2013.  [Photo/Asianewsphoto]
CHENGDU - Eighteen-year-old female giant panda, Jiaozi, gave birth to three cubs in Southwest China's Sichuan province last month, but only one survived, a panda breeding center said Thursday.
A researcher at the Chengdu Research Base of Giant Panda Breeding said Jiaozi delivered the first cub at 3:50 pm on August 19, but the cub died. The second was successfully delivered at 4:20 pm Jiaozi then gave birth to a lifeless cub on Aug 21.
The survivor is female and weighs 96 grams. It is being bred by staff because as she is unwell and her mother cannot produce milk.
"Giant pandas often give birth to a singleton or twins. The phenomenon of triplets is rare, especially at such an old age like Jiaozi," said Hou Rong, the center's deputy director.
Jiaozi at the age of 18 is equivalent to a 50-year-old woman.
Hou said Jiaozi had a fever and poor appetite after she delivered the three cubs, and there was a fear she may not survive. However, she is now out of danger.
Jiaozi's experience, from pregnancy to delivery, provides the center with valuable information about the birth of triplet cubs, Hou said.
Jiaozi, born in 1995, has given birth to ten cubs and seven are alive.
A giant panda named Yongba, gave birth to triplets at the age of 16 in 1999 but only one survived. In 1967, another female panda in a Shanghai zoo gave birth to three cubs but none survived.
Giant pandas are one of the world's most endangered species. About 1,600 live in the wild, mostly in the mountains of Sichuan, while more than 300 live in captivity.

Editor's picks

Copyright 1995 - . All rights reserved. The content (including but not limited to text, photo, multimedia information, etc) published in this site belongs to China Daily Information Co (CDIC). Without written authorization from CDIC, such content shall not be republished or used in any form. Note: Browsers with 1024*768 or higher resolution are suggested for this site.
Registration Number: 130349